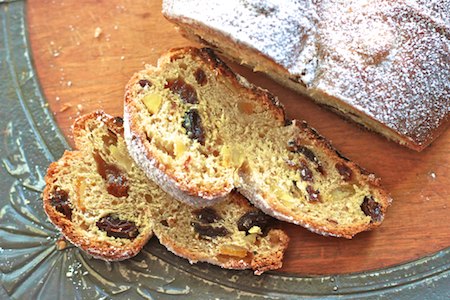 Today is December 16, 2011. Is this an important date because …
A) It's the posting (and my hosting) day for the Bread Baking Babes
B) I get married today
C) Both of the above, and by the time you read this I will have pulled the Stollen from the oven, dusted the flour off my dress, and made my way to City Hall to exchange vows with my beautiful, brilliant, sweet, funny, gentle, loving…
Ahem. Back to the Stollen. A perfect choice for this month, because it practically makes itself, leaving us Babes to occupy our minds with… whatever other things we may wish to occupy them with.
Stollen is one of my favorite holiday breads, and quite easy to make. It is a traditional bread from Dresden, Germany, and the shape is said to represent the swaddled child in the manger. You kind of have to use your imagination to see this.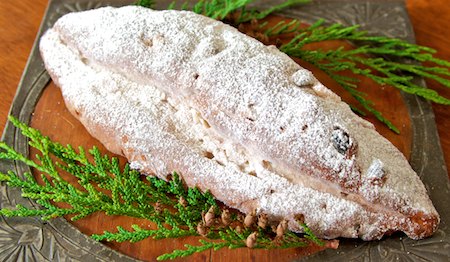 Mixing the dough is simple if you have a stand mixer with a dough hook, although it takes some time. Just throw the ingredients in the mixer, turn it on, and go buy a wedding dress or something.The dough will be ready when you get back.