According to Elle, who chose soft pretzels as the bread of the month for our little band of twisted sisters known as the Bread Baking Babes, the traditional pretzel shape is meant to resemble folded hands, and they were schoolboys' rewards from the monks for learning their prayers. This is fitting, because after the first batch I made, which called to mind Winnie-the-Pooh falling head-first into the honey pot, I was certainly praying for a better outcome the second time around.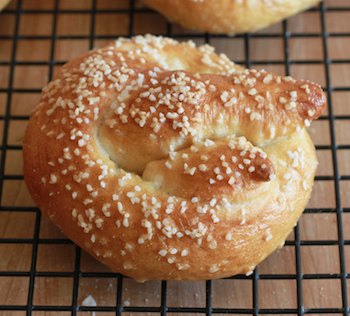 Praying hands? Not so much.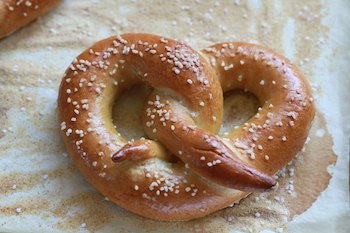 Praying hands? Hmmm …. looks more like like a pretzel to me.
I made my pretzels on the large side — 85 – 90 grams — and I found that, for this size, the ropes need to be rolled to about 26 inches (not 18, my first attempt) in order to maintain the definition of the shape through proofing, boiling, and baking.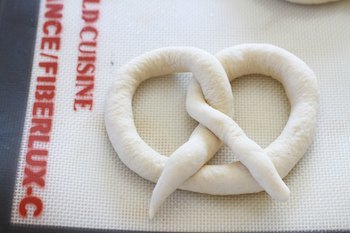 Looks a little scrawny when first shaped …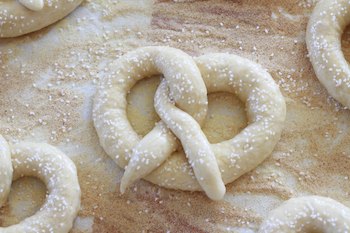 … but fills out after boiling …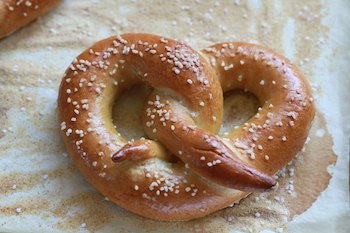 … and baking.
Elle's recipe was originally found at MyRecipes. Here, Elles, notes are in bold, and mine are in italics. Note that I doubled the recipe, so my conversion to grams reflects the larger batch size.
Soft Pretzels
Yield: 12 pretzels (Elle's note: Because I only used 2.5 cups of flour, I made 8 pretzels, not 12; Susan's note: I used the original amount of flour, then doubled the recipe but made the pretzels larger, so I made 15.)
Ingredients
1 package dry yeast (about 2 1/4 teaspoons) (doubled, I used 10.4 g of instant yeast)
1 1/2 teaspoons sugar (doubled: 12 g)
1 cup warm water (100° to 110°) (doubled: 480 g; I used cold water because I mixed by machine, which heats up the dough more)
3 1/4 cups all-purpose flour, divided (about 14 1/2 ounces) (Elle used 2 1/2 cups total; I used 823 g for the double batch)
1 teaspoon salt (doubled: 12 g)
Cooking spray
6 cups water
2 tablespoons baking soda
1 teaspoon cornmeal (I used semolina sprinkled on parchment paper)
1 teaspoon water
1 large egg
2 teaspoons kosher salt (I used pretzel salt)
Method
Dissolve yeast and sugar in warm water in a large bowl, and let stand for 5 minutes. (I skipped this step and threw the instant yeast and water directly into the mixer with the rest of the ingredients.)
Lightly spoon flour into dry measuring cups; level with a knife (Not necessary if you weigh!).
Add 3 cups flour and 1 teaspoon salt to yeast mixture; stir until a soft dough forms. Turn dough out onto a lightly floured surface; knead until smooth and elastic (about 8 minutes). Add enough of remaining flour, 1 tablespoon at a time, to prevent dough from sticking to hands (dough will feel slightly sticky). (I mixed the dough in a stand mixer to a medium level of gluten development.)
Place dough in a large bowl coated with cooking spray (or oil), turning to coat top.
Cover and let rise in a warm place (85°), free from drafts, 40 minutes or until doubled in size. (Gently press two fingers into dough. If indentation remains, the dough has risen enough.) Punch dough down; cover and let rest 5 minutes.
Preheat oven to 425°.
Divide dough into 12 equal portions. (For the double batch, I made 15 pretzels of 85 – 90 grams each.) Working with one portion at a time (cover remaining dough to prevent drying), roll each portion into an 18-inch-long rope with tapered ends. (My larger pretzel size required a rope of 26 inches.)
Cross one end of rope over the other to form a circle, leaving about 4 inches at end of each rope. Twist the rope at the base of the circle.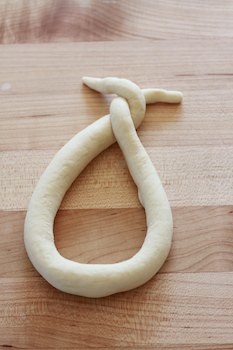 Fold the ends over the circle and into a traditional pretzel shape, pinching gently to seal.
Place pretzels on a baking sheet lightly coated with cooking spray. Cover and let rise 10 minutes (pretzels will rise only slightly). (Mine required 20 minutes to proof enough so that they didn't crack markedly while baking.)
Combine 6 cups water and baking soda in a non-aluminum Dutch oven. Bring to a boil; reduce heat, and simmer.
Gently lower 1 pretzel into simmering water mixture; cook 15 seconds. (I boiled three at a time in a 7-quart pot.) Turn pretzel with a slotted spatula; cook an additional 15 seconds. Transfer pretzel to a wire rack coated with cooking spray. (I found an ungreased rack was fine.) Repeat procedure with remaining pretzels.
Place pretzels on a baking sheet sprinkled with cornmeal. (I used parchment paper sprinkled with semolina.) Combine 1 teaspoon water and egg in a small bowl, stirring with a fork until smooth. Brush a thin layer of egg mixture over pretzels; sprinkle with salt. (I held the pretzels in my hand to egg wash before placing them on the baking sheet, to avoid mucking up the egg wash with the semolina.)
Bake at 425° for 12 minutes or until pretzels are deep golden brown. (My larger size required about 20 minutes in the oven.)
Transfer to a wire rack to cool.
This was a terrific challenge and I can't wait to try some variations. Bake your own by September 29 and send them to Elle to be included in the roundup. The links to the other Babes on my lower right sidebar should provide ample inspiration!