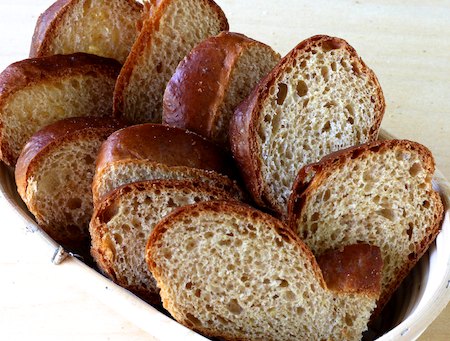 This month, the Bread Baking Babes are smiling even more sweetly than our usual sweet selves, with the Portuguese Sweet Bread (aka Pão Doce) Tanna selected for us. I love crusty hearth loaves, but sometimes you're in the mood for something softer, richer, and sweeter, and this bread hits that spot nicely.
The recipe allows for a variable amount of sugar, and I opted for the lowest amount, which was just lovely. The result was beautiful for sandwiches as well as morning toast, and would make wonderful dinner rolls as well (maybe without the lemon zest). The inclusion of ground flaxseed and about 25% whole wheat flour might or might not make a healthful difference, but they definitely add flavor and color.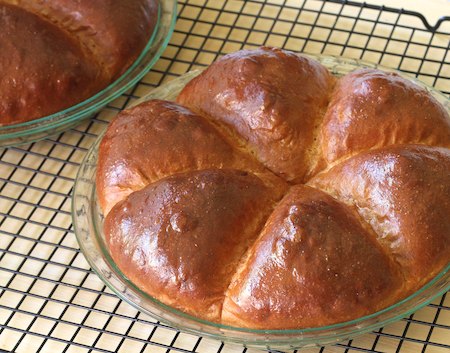 The shaping Tanna proposed is not traditional for this bread (which I've usually seen in plain rounds), but is a lot of fun. I really rolled the rolling pin between the sections and floured the channels well, which maintained very good definition of the sections during proofing and baking. You could be less forceful to get beautifully rounded loaves that look less like pincushions. Both ways are delightful.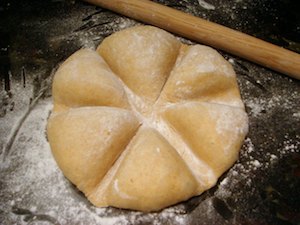 If you bake your loaves, as I did, in glass pie plates, make sure to grease them with plenty of butter. Glass really likes to hold on to bread.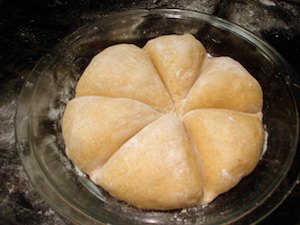 I think I am the last Babe to post my bread today. Being last is not something I generally strive for, but in this case it has its advantage: I get to link to all the other sweet Babes' breads.