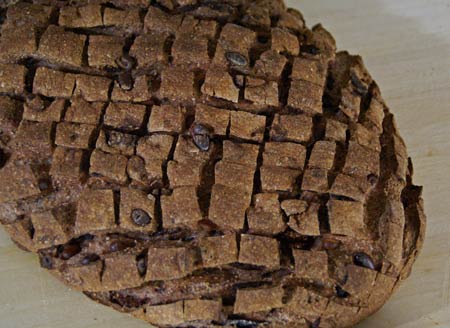 For the record, let me say that any home-baked bread, and indeed all home-cooked food, has aphrodisiac potential. Any lover who does not recognize a lovingly-prepared dish as an eminently romantic gesture is clearly the wrong sort of lover.
That said, there are of course a few foods reputed to possess extraordinary amatory powers. In honor of this month of love, here's a bread whose three starring ingredients are officially on Aphrodite's List:
Red wine stimulates the senses and relaxes the body and mind.
Pine nuts are rich in zinc, an essential mineral for male potency. (Does anyone get "Pi|\|e |\|uts" spam?)
Figs' aphrodisiacal power is said to lie in their resemblance to the female anatomy.

The recipe, adapted from from Dan Lepard's The Handmade Loaf (a must-have for any serious bread-baker's library), is my contribution to Mele Cotte's Kitchen of Love.
This flat, dense loaf has an incredibly rich, sweet flavor that is amazing with tangy cheeses. Guaranteed to leave your beloved begging for more.