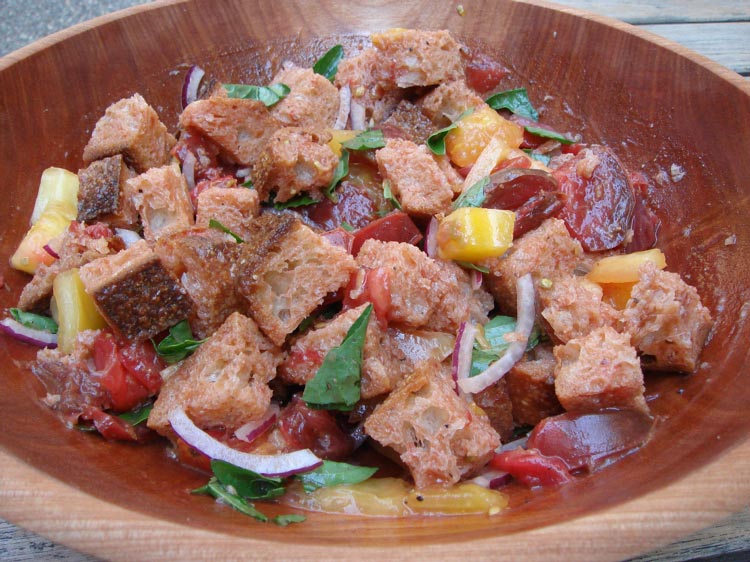 I'm not growing any tomatoes this year – summer kind of snuck up on me before I got to planting them – but the farmer's market and produce stand tomatoes are plentiful and wonderful. Even the supermarket tomatoes are darn good eating this time of year.
This simple salad is possibly the dish that says "summer" the loudest around our house. It's a terrific way to use up that two-or-three-day-old bread that can't quite stand on its own any more.
I'm told the Italians call this "panzanella," but to me it will always be just "tomato-bread salad." It's great with your favorite grill fare, or on its own (with a glass of wine, of course) for a light supper.

Tomato – Bread Salad
Yield: 4 side-dish servings
Time:
Cut and dry bread cubes: 6 – 8 hours
Prep: 10 minutes
Rest: 30 minutes
Ingredients:
3 1″-thick slices (about 5 oz.) crusty bread such as this one, preferably a little stale, cut into 1″ cubes
1 clove garlic
a generous pinch of kosher salt (about 1/2 t., or to taste)
a few grinds of black pepper, to taste
2 T. olive oil
1-1/2 t. balsamic vinegar
2 medium tomatoes, cut into 1″ pieces
1/4 of a medium red onion, thinly sliced
20 fresh basil leaves, torn or cut into large pieces
Method:
In the morning, cut the bread cubes and let them sit out all day to dry out a bit.
Cut the garlic clove in half and rub the cut side on the inside of a (preferably wooden) salad bowl.
Toss the bread, tomatoes, onion, and basil with the dressing.
Allow the salad to rest for 30 minutes at room temperature to develop the flavors and allow the bread to soak up some of the dressing and tomato juice. The bread should be soft but not soggy.