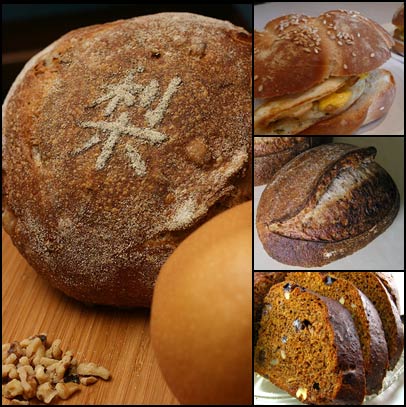 An awesome lineup again this week! For even more yeastworthiness, take a look at the BBD #24 (Mixed Breads) roundup at El Aroma de IDania.
Next week only, YeastSpotting will feature an additional category: favorite holiday breads. These can be breads from your blog archives and do not need to include a link to YeastSpotting. Use the submission form as usual, and select the "holiday favorite" category. Please make sure post(s) submitted in this category (no more than two per blog please) include a recipe or a link to one. Let's make this the most amazing collection of festive breads anywhere!
YeastSpotting is a weekly showcase of yeasted baked good and dishes with bread as a main ingredient. For more bread inspiration, and information on how to participate, please visit the YeastSpotting archive
.
Loaves and Rolls

Living in the Kitchen with Puppies

A Stove With A House Around It

Flatbreads, Filled Breads, and Savory Pastries
Sweet Breads and Pastries
Dinner