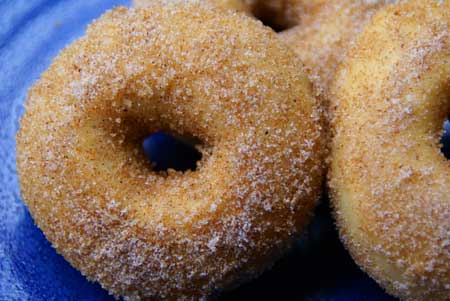 I made these doughnuts (my first ever; don't know what I was waiting for) for Tartelette and Peabody's Time to Make the Doughnuts event. They allowed baked doughnuts, although they warned against making a habit of it. Still reeling from holiday fat overload, I couldn't bring myself to deep fry anything right now. Next time.
These were inspired by Heidi's Baked Dougnuts at 101 Cookbooks, and my recipe loosely based on hers.
I experimented with different sugar/spice mixtures for the coating, in which the doughnuts are dipped after baking. My favorites were 50/50 brown sugar and granulated sugar with cinnamon (pictured above), and granulated sugar with cardamom. Another interesting one was granulated sugar with chipotle powder. The possibilities are limitless.
Yeasted Baked Doughnuts
Yield: 18 – 24 doughnuts plus about 30 doughnut holes
Time:
Mix: 15 minutes
First fermentation: 1.25 hours
Shape: 15 minutes
Proof: 45 minutes – 1 hour, or 45 minutes plus overnight in refrigerator
Bake: 8 – 10 minutes
Ingredients:
350 g flour
350 g white whole wheat flour
35 g nonfat milk powder
330 g lukewarm water
100 g (2) whole eggs
30 g unsalted butter, softened
8 g (1-1/3 t. table) salt
6 g (1-3/4 t.) instant yeast
150 g fine granulated sugar
100 g (one stick) unsalted butter
sugars and spices for coating, in combinations and amounts to taste
Method:
Combine flours, milk powder, water, eggs, 30 g butter, yeast, and salt in the bowl of a stand mixer.
Mix in low speed to incorporate the ingredients, about 4 minutes. The dough will still seem fairly stiff at this point.
While continuing to mix in medium speed, add the 150 g of sugar in five or six increments, mixing for a minute or two between additions.
Continue to mix until the dough reaches almost full development.
Ferment the dough in a lightly-oiled container at room temperature (about 70F) for 1.25 hours.
Line three baking sheets with parchment paper.
Turn the dough out onto a lightly-floured counter and roll it into a 1/2-inch thick rectangle.
Using a round cutter about 2-3/4″ in diameter, cut dough circles and transfer them to two of the parchment-lined sheets.
Use a 1-1/4″ cutter to cut out the holes. I also used this cutter to cut extra "holes" from the rolled dough left over when the large circles were cut. Place the holes on the third baking sheet.
The scraps can also be re-rolled and cut, but try not to do this too many times or too much flour will be incorporated into the dough.
Slip the baking sheets into a large plastic bag. Proof for 45 minutes, at which point they can be baked or refrigerated (covered) for 8 – 12 hours.
Meanwhile, preheat the oven to 375F.
Bake one sheet at a time, just until barley starting to brown. This will take about 10 minutes for the doughnuts, a little less for the holes. If the doughnuts have been refrigerated, they can be baked straight from the refrigerator.
While the doughnuts are baking, melt the stick of butter and prepare your sugar/spice mixture to taste.
While still hot, brush the doughnuts with butter and roll them in spiced sugar.
Serve immediately, preferably with coffee.