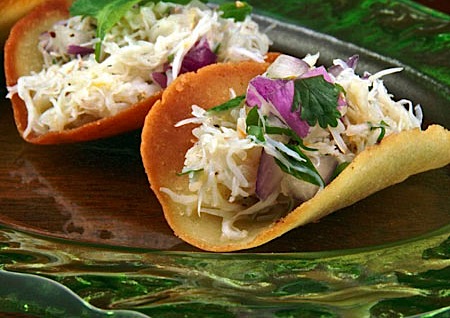 First off, here's the requisite fine print, so I don't get kicked off the Daring Bakers' books, especially after failing to do last month's challenge:
"This month's challenge is brought to us by Karen of Bake My Day and Zorra of 1x umruehren bitte aka Kochtopf. They have chosen Tuiles from The Chocolate Book by Angélique Schmeink and Nougatine and Chocolate Tuiles from Michel Roux." The challenge also ordered us to pair the tuiles with "something light," leaving the whole thing well open to creativity and interpretation.
Now I realize there may be a few questions at this point:
Karen and Zorra are bread bakers extraordinaire. Why didn't they pick a bread recipe?

Karen and Zorra are complex women of many talents. We should all be so gifted.

What's that stuff on top?
You put crab salsa on top of a cookie. What have you been smoking?

Actually, we had a secret savory option as well: cornets from Thomas Keller's French Laundry Cookbook.