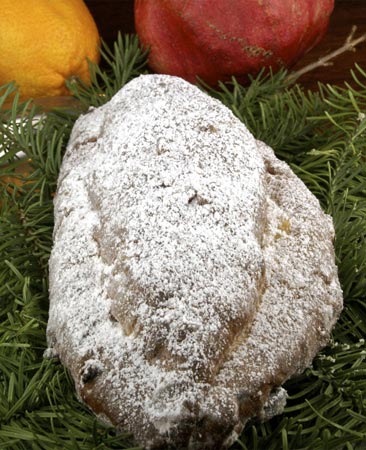 Today's post was supposed to be about this year's panettone, but we're not going to talk about that right now. If you must have panettone, fine, go, get out! And don't bother coming back!
Stollen is much easier than panettone. None of this fussy sweet Italian levain business, none of this persnickety adding of the sugar in stages so you don't overhwhelm your poor fragile gluten, none of this namby-pamby hanging upside down after baking so the sissy little bread doesn't collapse under its own weight.
No, with stollen you just throw everything into the mixer and mix the hell out of it. The hardest part is shaping the loaf so it looks like the baby Jesus wrapped in swaddling clothes and lying in the manger. (I think I did a pretty good job with that. I mean, I really see the resemblance there, don't you?) And you won't catch our little Lord collapsing under his own weight any time soon, now, will you?