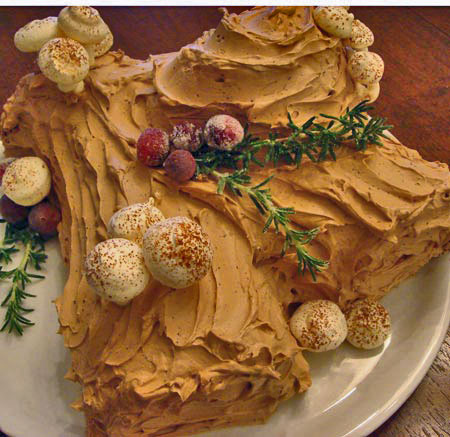 December is a month for lists, so here we go:
What this is:
A Yule Log, or Bûche de Noël.
The December Daring Bakers challenge, hosted by Lis (La Mia Cucina) and Ivonne (Cream Puffs in Venice), who are also the illustrious founders of the DBs.
My interpretation of the recipe Lis and Ivonne adapted from Perfect Cakes by Nick Malgieri and The Williams-Sonoma Collection: Dessert. (The recipe should be up on their blogs soon.)
A genoise cake rolled with coffee buttercream filling and frosted with mocha buttercream, garnished with meringue mushrooms and other embellishments.
What I did: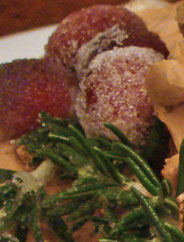 Followed the recipe exactly for the plain genoise. No fancy flourishes for me here. I'm a cake neophyte, so best to stick to basics. Luckily, this went without a hitch.
Followed the recipe for the coffee buttercream filling exactly, only substituting Kahlúa for the rum I was out of.
Because the alcohol flavor in the filling was quite strong, enough for the entire cake, I made another batch of buttercream for the outside. This time I left the Kahlúa out, and added about 1/3 cup of melted semi-sweet chocolate.
Rolled the cake with the filling two days before serving, and kept it in the refrigerator, tightly wrapped in plastic.
Frosted the cake the night before serving, and kept it refrigerated, covered with a plastic cake dome.
Made meringue mushrooms one day ahead and stored them in a ziploc bag.
Made sugared cranberries by dipping toothpick-impaled raw berries in a light sugar/water syrup, then in granulated sugar. Same for the rosemary, minus the toothpick of course.
Brought this to my clinic's holiday party.
Failed to take any photos of the cut cake. I'm self-conscious enough taking photos of my food at home; I draw the line at doing it in front of my colleagues.
What I liked:
I'm sorry if saying so is immodest, but it looked amazingly like a "real" yule log (i.e., one made by someone who actually knew what they were doing).
I haven't has this much fun with mushrooms since… well, never.
I haven't had this much fun assembling a cake since… also never.
The parts could all be made ahead, and each element was pretty straightforward to make.
It was definitely a crowd-pleaser.
What I didn't like (happily, a short list!):
The flavor reminded me of one of my least favorite desserts, tiramisu. Next time (and there will definitely be a next time, very soon) I will leave the alcohol out completely, and probably make some kind of fruit filling instead of the buttercream.
What I learned: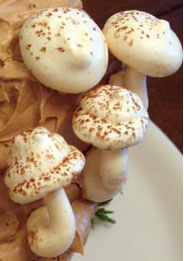 Burning a (real) yule log started as a Scandinavian pagan Winter Solstice tradition, and symbolizes protection, warmth, and light.
Genoise is a sponge cake leavened only with the air beaten into the batter. It also contains no butter or oil.
Coffee powder dissolves nicely in Kahlúa, not so much in melted chocolate. (Which is not necessarily a disaster if the aim is to make your buttercream frosting resemble bark.)
Raw cranberries are surprisingly edible when glazed with sugar.
Mushroom stems that fall over during piping or baking let you make mushrooms that grow on the side of the log.
If you bring this to a party, be prepared for everyone to ask how you made the mushrooms. Next time I think I will prepare a poster.
Thank you Lis and Ivonne for a dazzling challenge! And to everyone, may your holiday season be filled with warmth and light.