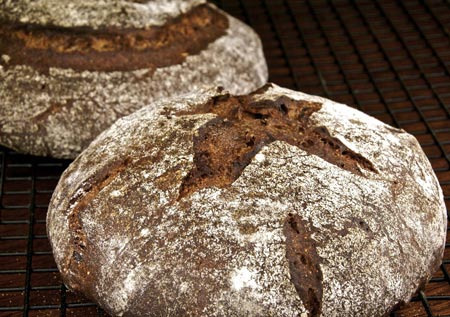 Try a thing you haven't tried before three times – once to get over the fear, once to find out how to do it, and a third time to find out whether you like it or not. — Virgil Thomson

I'm going to take a few liberties with Mr. Thomson's quote to fit my experience with this fig and fennel bread. I was never afraid of it, I knew I liked it on the first pass, and it took me until the third time to figure out how to do it. So mine would go something like this:
Try a bread you haven't baked before three times – once to overhydrate it, once to overproof it, and a third time to find out whether you really can bake at all or if you should just hang up your apron right now and go skydiving three times.
I'm happy to report I didn't have to resort to skydiving.
This is a compact bread that is easily sliced very thinly. That's a good thing, because the flavor is intensely fennely and figgy and just a thin slice will do.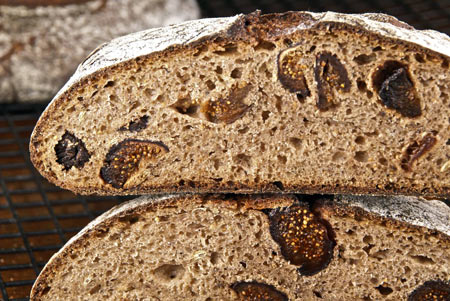 A few hints:
If you don't normally keep a rye starter, take a portion of your white starter and feed with with rye flour for a few feedings.
If you're not a huge fennel fan, you might want to cut the fennel seeds in half or so.
Make sure your figs are soft and pliable.
Before the addition of the fig puree, the dough is quite stiff. Don't be alarmed. Take care not to add too much water; overhydrating will result in a frisbee.
Take care not to overproof; overproofing will also result in a frisbee. The loaf is ready when the indentation left by your finger does not spring back in a lively way.
Use a proofing basket that's a bit smaller than what you would usually use for this amount of dough. The dough will not double in volume; it will expand by about 50%.
I recommend short slashes like this:

Slashing in a circle around the boule like this is not the best because the weight of the figs will encourage the center section to sink down:

The bread tastes better the day after it is baked.
Fig and Fennel Bread with Rye Sourdough
Yield: 1400 g (2 loaves)
Time:
Mix: 10 minutes
First fermentation : 2 hours with a fold at 1 hour
Preshape, rest, and shape: 30 minutes
Proof: 1 hour and 15 minutes
Bake: 40 minutes
Desired dough temperature: 80F
Fig puree Ingredients:
108 g dried figs, coarsely chopped
72 g hot water
Final Dough Ingredients:
431 g flour
48 g coarse semolina flour
214 g water
11.5 g (scant 2 t.) salt
12 g barley malt syrup
266 g mature 100%-hydration rye starter
All of the fig puree
251 g dried figs, cut in half
7 g whole fennel seeds
Method:
Puree the 108 g figs with the hot water. Allow to cool completely.
In the bowl of a stand mixer with dough hook, combine flour, semolina, salt, barley malt syrup, starter, and about 90% of the water. Mix in low speed to incorporate the ingredients. Add water as needed to achieve a dough that is stiff but  tacky, not dry.
Continue mixing, in medium speed, to a medium level of gluten development.
Add the fig puree and mix in low speed until it is incorporated.
Add the fennel seeds and figs and mix in low speed until just incorporated.
Transfer the dough to a lightly oiled container. Cover and ferment for 2 hours, with a fold after the first hour.
Turn the dough into a lightly floured counter. Divide into two pieces. Preshape each piece into a tight ball and let rest, covered, for 20 minutes.
Shape the dough into a tight ball and place it, seam-side-up, in a well-floured, linen lined basket.
Proof, covered, for 1 hour and 15 minutes.
Meanwhile, preheat the oven, with baking stone, to 475F. You will also need steam during the initial phase of baking, so prepare for this now.
Just before baking, slash the loaves (see notes above).
Once the loaves are in the oven, reduce the temperature to 450F. Bake for 10 minutes with steam, and another 20 minutes or so without steam. Then turn off the oven and leave the loaves in for another 10 minutes, with the door ajar.
Cool on a wire rack.