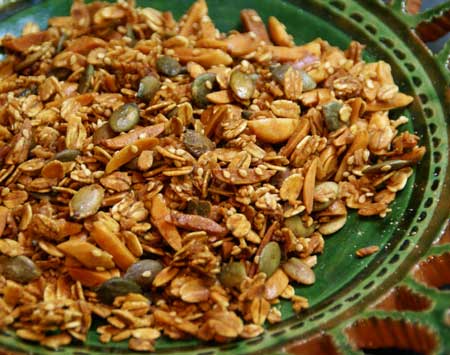 I made granola for BreadBakingDay. You may be thinking: Ahem, this is BBD, not BCD (BreakfastCerealDay). To which I would reply: True, but this granola is so much more than a breakfast cereal. Bear with me.
Ten days ago, I had never made granola. I hadn't eaten granola in years. Granola was merely a faint shadow lurking at the periphery of my long-term memory. Then I read about Molly's favorite granola on Orangette, and I thought, this looks good. In fact, this looks great! Not to mention ever-so-easy. And, modulo a substitution or two, I had all the ingredients on hand.
A couple of hours, a batch of homemade applesauce, and nearly three pounds of oats, nuts, and seeds later, I could confirm that Molly does not exaggerate: the stuff was amazing. My family thought so too. We ate it with milk. We ate it with the rest of the applesauce. We ate it with yogurt, with almond milk, and right from our hands. We ate it in the morning, yes, but in the afternoon and evening, too. We showed no restraint whatsoever. Within two days, it was gone.
Nothing to do except make more. But let's face it: although this sweet crunchy ambrosia may be chock full of fiber, protein, and good fats, it's not exactly low-calorie. If we were to maintain a rate of consumption commensurate with that first batch, we'd be sorry, and soon. How to make it last a little longer?
I didn't have to ponder that for long. When Astrid (Paulchen's FoodBlog) announced that the theme for BBD #09 would be bread with oats, I knew exactly what I was going to do with some of that granola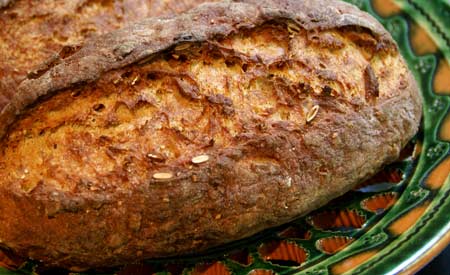 OK, I admit this bread is pretty energy-dense in its own right. But it has 60% whole-grain flour, and with no additional sweetener beyond what's in the granola, I would not call this a sweet bread. Also, the rather close texture means it can be sliced very thinly so the love can last and last. I can live with that.
I followed Molly's granola recipe, which is itself adapted from Nigella Lawson's Feast, quite closely. I made a couple of ingredient substitutions (including the pumpkin seeds) to accommodate my pantry stock. I also converted the volume amounts to grams so ingredients can be weighed; this is especially handy for the sticky ingredients, which can be added directly to the bowl on the scale without needing to wrangle them out of a measuring cup. I've posted my version of the recipe after the one for the bread.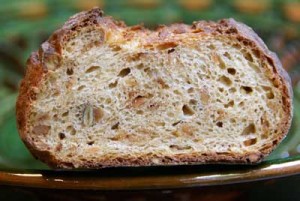 The bread was inspired by one in King Arthur Flour Whole Grain Baking, although mine has a good bit less sugar and fat, plus a number of other modifications. Oat flour has no gluten to speak of, so the dough is more fragile than one made exclusively with wheat flour. Also, the potato makes the dough quite sticky. Don't be alarmed if it seems more like a thin cookie dough than bread dough until you're well into the mixing.
The dough is mixed initially without the granola, and it needs to be mixed for quite a long time (perhaps up to 20 minutes or more) before the gluten develops. It is also given two folds during the initial fermentation to strengthen it, and by the time it's ready for shaping, it is quite strong and holds its shape very well. (So well, in fact, that when one of the loaves flew off the peel on its way to the baking stone and landed on the open oven door, I was able to pick it up with oven-mitted hands and deposit it onto the stone with no discernible effect on the finished bread.)
Granola Bread
Yield: about 900 g (2 small loaves)
Time:
Mix: 25 minutes
First fermentation: 1.5 hours, with folds at 30 and 60 minutes
Divide, preshape, shape: 30 minutes
Proof: 1 hour
Bake: 40 minutes
Desired dough temperature: 77F
Ingredients:
154 g flour
154 g white whole wheat flour
77 g whole oat flour
272 g water
7.7 g (2.5 t.) instant yeast
7.7 g ( 1-1/4 t.) salt
46 g milk powder
120 g baked potato flesh, mashed and cooled
154 g granola (recipe follows)
Method:
In the bowl of a stand mixer, combine flours, water, yeast, salt, milk powder, and potato.
Mix on low speed until the ingredients are incorporated. The dough will feel extremely soft and sticky.
Continue mixing in low or medium speed until the gluten reaches a low level of development. This may take about 15 or 20 minutes. The dough will still be very sticky, and wetting your hands before you touch it will help keep sticking to a minimum. The dough is fragile but it should be possible to pull a semblance of a windowpane by the end of the mixing.
Add the granola and mix in low speed just until it is completely distributed through the dough.
Transfer the dough to a lightly-oiled container, preferable a low wide one to facilitate folding right in the container.
Ferment the dough for 1.5 hours at warm room temperature, with folds at 30 and 60 minutes.
Turn the dough out onto a lightly-floured counter and divide it into two pieces. Preshape each piece into a tight ball.
Cover and rest for 25 minutes.
Shape the balls into batards and place them, seam down, into a lightly floured couche or linen-lined baskets.
Cover with plastic or slip into a large plastic bag. Proof at warm room temperature for about one hour.
Meanwhile, preheat the oven, with baking stone, to 475F. You will need steam during the initial phase of baking, so prepare for this now.
Just before baking, slash each batard with a single stroke down the entire length of the loaf.
Once the loaves are in the oven, reduce the heat to 450F. Bake with steam for 13 minutes, and without steam for another 15 minutes. If your oven holds heat well, it may be turned off for the last 5 minutes of this time. The crust should be a very dark brown. Turn the oven off (if it's not off already) and leave the loaves inside for another 10 minutes or so, with the door ajar, to allow the bread to dry.
Cool completely on a wire rack.
Granola
Yield: about 1400 g Time:
Mix: 5 minutes
Bake: about 1 hour
Ingredients:
530 g rolled oats (not quick-cooking)
375 g blanched slivered almonds
150 g shelled pumpkin seeds
110 g sesame seeds
140 g brown sugar
4 g (2 t.) cinnamon
2 g (1 t.) ginger
6 g (1 t.) salt
200 g unsweetened applesauce
115 g brown rice syrup
85 g honey
28 g canola or safflower oil
Method:
Space two oven racks evenly in the oven and preheat it to 300F.
In a large bowl, mix oats, almonds, pumpkin seeds, sesame seeds, and brown sugar.
In a small bowl, mix applesauce, brown rice syrup, honey, and oil.
Pour the wet ingredients over the dry ingredients and mix well.
Spread evenly on two rimmed baking sheets.
Bake for 50 – 60 minutes, stirring every 10 – 15 minutes. I found that the granola toasted more quickly on a nonstick baking sheet than on a regular aluminum one.
The granola is done when it is a deep toasted brown. It will still seem moist when it comes out of the oven, but will crisp as it cools.
Once cool, store in an airtight container in the refrigerator.