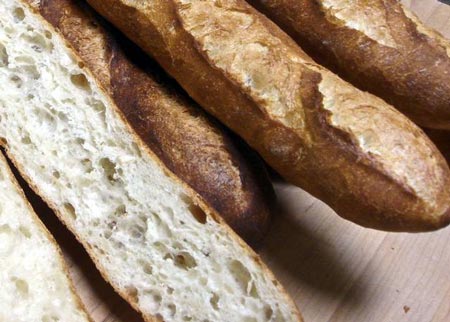 One week down, 23 to go. During my first five days at SFBI, my routine went something like this:
5:00 am: Out of bed.
5:10 am: Coffee. This step must not be omitted.
6:00 am: Hit the road. Unfortunately, my route to SFBI coincides with that to the airport. I have learned that every man, woman, and child in the Bay Area catches an early-morning flight each and every day.
6:45 am: Arrive at SFBI. Try to resist breakfast pastries. Fail miserably.
7:00 am – 1:30 pm: Get patient instruction and constructive feedback from Frank, our  talented and knowledgeable bread instructor. In the classroom and in the bakery-lab, learn about flour, water, yeast, salt, scaling, mixing, fermentation, proofing, scoring, baking, cooling, staling. Learn shaping of boules and batards (which I thought I knew, but didn't). And practice baguettes, baguettes, dozens of baguettes! These babies are, hands-down, the hardest bread there is to shape and score properly. Say "uh-oh" (in reference to my own clumsy but thankfully improving efforts) several times an hour. "Oops" can be used interchangeably with "uh-oh." And then, every once in a while, sometimes when I least expect it, there's a "well, that didn't turn out too badly after all, now, did it?"
1:30 pm: Lunch, prepared by SFBI staff. Always includes fresh bread and more irresistible pastries.
Here Frank demonstrates proper baguette-shaping technique…
… and his are perfect …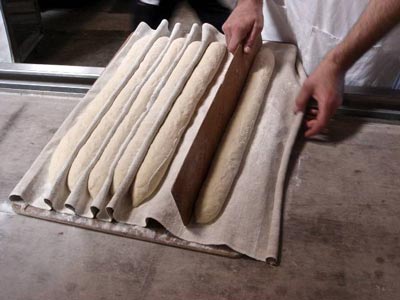 … while these are mine. Can you say baseball bat?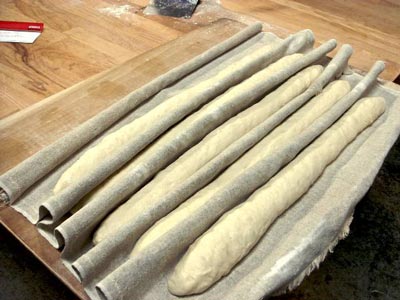 Score!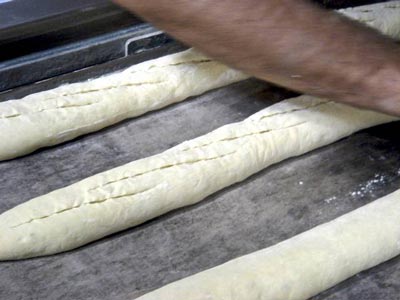 One of two four-deck ovens that hold more than 100 baguettes each. I'm wondering whether one of these will fit in my garage: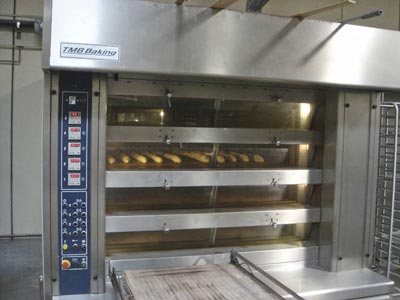 The loaves are placed on the cooling racks in order, so everyone can keep track of their own. There is always plenty of bread to take home at the end of the day.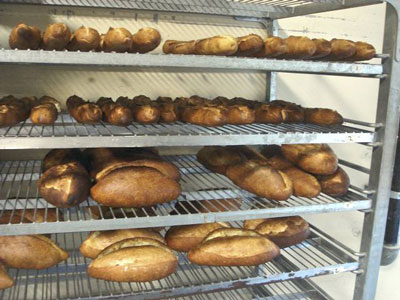 Which of these baguettes do you think is the best? Stay tuned…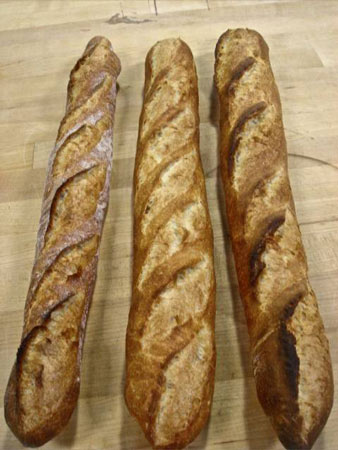 For more scenes from Week 1, check out my classmate Rachael's blog, The Pastry School Chronicles.