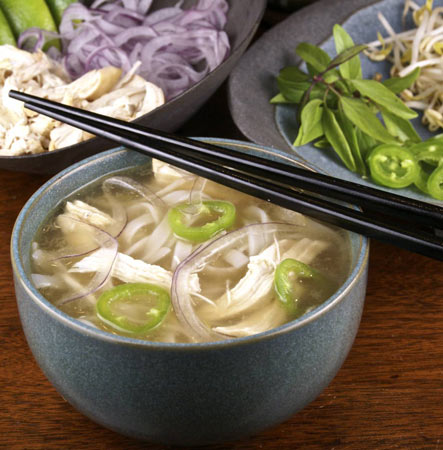 The October 2009 Daring Cooks' challenge was brought to us by Jaden of the blog Steamy Kitchen. The recipes are from her new cookbook, The Steamy Kitchen Cookbook.
At least once a game, I find myself thinking that "pho" really ought to be a valid Scrabble word.  After all, "sushi" is legal. So is "carbonara." Ditto "paella." And in my town, the noodle houses that specialize in this traditional Vietnamese soup can be found sometimes two or three to a block, at least as numerous as sushi restaurants and easily outnumbering those serving Italian or Spanish fare. In other words, pho is a legitimate part of our multi-ethnic American culinary lexicon.
In fact, pho is so easy to come by around here that it never crossed my mind that I could or should make it at home. Thanks to Jaden and this month's Daring Cooks challenge, I now know I can have her delicious, quick version of pho ga (chicken pho) on the table in less time than it takes to go get some at Pho Quyen Noodle House. Throw in the crispy chocolate wontons (with green tea ice cream) for dessert and I'm still ahead of the game, time-wise.
(That is, of course, assuming that I ignore Jaden's instruction that the tails should be pinched off the two cups of bean sprouts that are one of pho's important garnishes. That's, what, about 1,843 sprouts? Call me a bad Daring Cook if you must, but if we're talking that kind of time, I'll just go straight to Viet Nam for my pho, thank you very much.)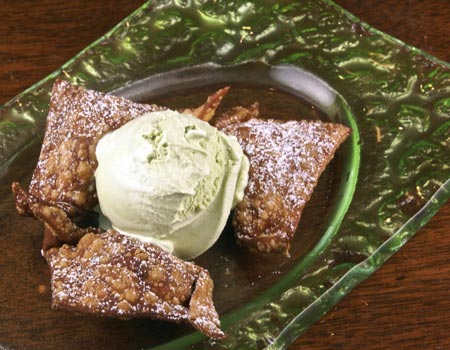 These recipes are reprinted with permission, courtesy of Jaden Hair.
Quick Chicken Pho
Equipment:
Frying pan
Large stockpot
Tongs
Strainer, sieve or colander
Bowls for serving
Preparation Time: 45 cooking time + 15 minutes to cook noodles based on package directions
Servings: Makes 4 servings
Ingredients:
For the Chicken Pho Broth:
2 tbsp. whole coriander seeds
4 whole cloves
2 whole star anise
2 quarts (2 liters/8 cups/64 fluid ounces) store-bought or homemade chicken stock
1 whole chicken breast (bone in or boneless)
½ onion
1 3-inch (7.5 cm) chunk of ginger, sliced and smashed with side of knife
1 to 2 tbsps. sugar
1 to 2 tbsps. fish sauce
1 lb. (500 grams/16 ounces) dried rice noodles (about ¼ inch/6 mm wide)
Accompaniments:
2 cups (200 grams/7 ounces) bean sprouts, washed and tails pinched off [I used mung bean sprouts]
Fresh cilantro (coriander) tops (leaves and tender stems) [I was out of cilantro, and I used Thai basil instead]
½ cup (50 grams/approx. 2 ounces) shaved red onions
½ lime, cut into 4 wedges
Sriracha chili sauce
Hoisin sauce
Sliced fresh chili peppers of your choice
Directions:
To make the Chicken Pho Broth: heat a frying pan over medium heat. Add the coriander seeds, cloves and star anise and toast until fragrant, about 3-4 minutes. Immediately spoon out the spices to avoid burning.
In a large pot, add all the ingredients (including the toasted spices) and bring to a boil.
Reduce the heat to medium-low and let simmer for 20 minutes, skimming the surface frequently.
Use tongs to remove the chicken breasts and shred the meat with your fingers, discarding the bone if you have used bone-in breasts.
Taste the broth and add more fish sauce or sugar, if needed. Strain the broth and discard the solids.
Prepare the noodles as per directions on the package.
Ladle the broth into bowls. Then divide the shredded chicken breast and the soft noodles evenly into each bowl.
Have the accompaniments spread out on the table. Each person can customize their own bowl with these ingredients.
Chocolate Wontons
Equipment:
Small bowl
Pastry brush
Plastic wrap and/or damp paper towels
Wok or medium-sized pot
Frying thermometer (if you don't have a thermometer, you can test the oil temperature by dropping in a cube of bread … if it browns quickly, the oil is ready)
Preparation time: 15 minutes + 15 minutes cooking time (for 12 wontons)
Servings: Makes 12 wontons.
Ingredients:
1 large egg
1 tbsp. water
12 wonton wrappers, defrosted (keep wrappers covered with damp towel)
12 pieces or nuggets of chocolate (use any type of chocolate you like)
High-heat oil for frying (i.e., vegetable oil, corn oil)
Confectioners' sugar (icing sugar) for sprinkling
Directions:
In a small bowl, whisk together the egg and water to make an egg wash.
On a clean, dry surface lay 1 wonton wrapper down with a point toward you, like a diamond.
Place 1 piece of chocolate near the top end of the wrapper.
Brush a very thin layer of the egg wash on the edges of the wrapper.
Fold the bottom corner of the wrapper up to create a triangle and gently press to remove all air from the middle. Press the edges to adhere the sides. Make sure the wrapper is sealed completely.
Repeat with the remaining wrappers and chocolate pieces.
Keep the folded chocolate wontons covered under plastic wrap or a damp paper towel to prevent them from drying.
In a wok or medium pot, pour in 2 inches (5 cm.) of high-heat oil.
Heat the oil to 350º F (180º C) and gently slide a few of the chocolate wontons into the hot oil. Make sure you don't crowd the chocolate wontons.
Fry the wontons for 1 ½ minutes, then flip over and fry another minute until both sides are golden brown and crisp.