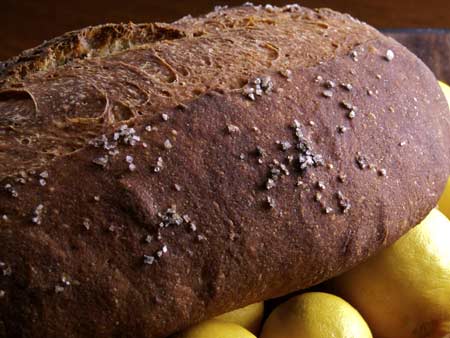 Does "lemon bread" conjure for you an image of sugary, cake-like, bright yellow slabs that make a fine dessert but a lousy ham sandwich? This lemon barley bread, adapted from the Lemon Barley Cob recipe in Dan Lepard's The Handmade Loaf, is nothing like that. This is real bread, with a strong lemon flavor that goes well with anything from a drizzle of honey to slices of tomato with a basil leaf or two.*
The Handmade Loaf is a book well worth owning. It showcases dozens of unique breads and bakers from across Europe, as well as Lepard's minimalist mixing method. This generally consists of 20–30 minutes of doing nothing more than allowing the dough to rest and collect itself, punctuated by two or three short bursts of hand kneading.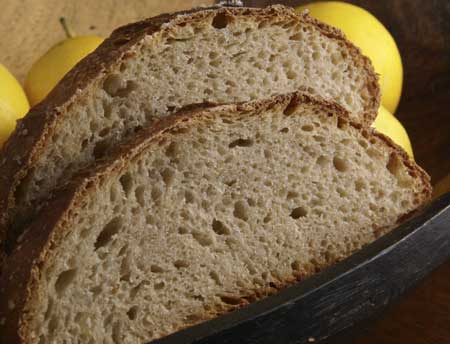 Lemon Barley Loaf
Yield: 600 g (one loaf)
Time:
Elaborate sourdough starter
Mix final dough: 25 minutes
First fermentation : 1 hour
Shape: 2 minutes
Proof: 1.5 hours
Bake: 45 minutes
Desired dough temperature: 75F
Ingredients:
100 g barley flour
150 g high-gluten flour (I used Sir Lancelot from King Arthur Flour)
133 g water at room temperature
1 g instant yeast
5 g salt
14 g fresh lemon juice
finely-grated zest of one lemon
30 g honey
167 g mature 100%-hydration sourdough starter
coarse salt for sprinkling
Method:
In a large bowl, combine the flours, salt, and yeast.
In another bowl, whisk together the starter, honey, lemon juice, and lemon zest, and 90% of the water.
Add the wet ingredients to the flour mixture and mix with your hands until everything is incorporated. Adjust the water as needed to achieve a medium-soft consistency.
Cover the bowl and allow the dough to rest for 10 minutes.
Turn the dough out onto a lightly-oiled counter and knead for 10 seconds (yes, seconds).
Return the dough to the bowl, cover, and allow it to rest for another 10 minutes.
Turn the dough out and knead for 10 seconds more.
Return the dough to the bowl, cover, and allow it to ferment for one hour at room temperature.
Turn the dough onto a lightly-floured counter and shape it into a batard.
Place the batard, seam-side-up, in a lightly-floured couche. Cover and proof for 1.5 hours at room temperature.
Meanwhile, preheat the oven, with baking stone, to 410F. You will also need steam during the initial phase of baking, so prepare for this now.
Just before baking, spray the loaf with water, sprinkle with coarse salt, and make a single slash down the long axis of the batard.
Bake at 410F for 10 minutes with steam, and another 20 minutes or so without steam. Reduce the temperature to 375F and bake for another 10 minutes. The turn off the oven and leave the loaf inside for another 5–10 minutes, with the door ajar.
Cool on a wire rack.
*Remember how I said the bread goes well with tomatoes and basil? I have to confess that this week was the second time in a couple of weeks that I made this dough. The first time, I have just returned from vacation, and when I finish mixing the dough and turn my thoughts to dinner, I open the refrigerator to find it virtually empty, except for an unopened container of ricotta. I do have a garden full of ripe tomatoes and beautiful basil. Hmmm, sounds like a pizza, if only I had some dough…