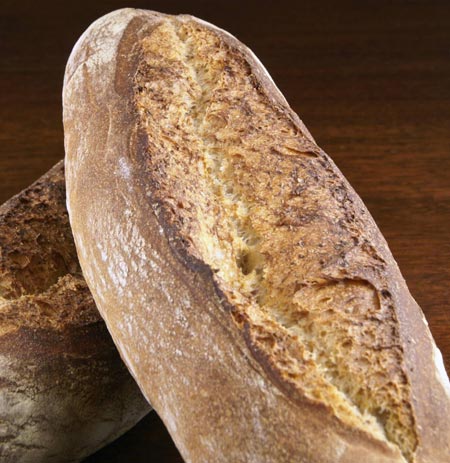 Pain de Beaucaire is one of those breads that is like true magic to me. It really seems impossible that a stiff dough could yield a bread whose crumb is as light and open as this centuries-old bread from Beaucaire, in the south of France.
The secret lies in the bread's unique shaping method. The dough is formed into two layers, with a layer of wet flour slurry sandwiched between them. When the sandwich is stood on its side to bake, the loaf opens along the "filling" to create its beautiful characteristic fissure, similar to a fendu loaf, and the steam created by the slurry helps lighten the crumb.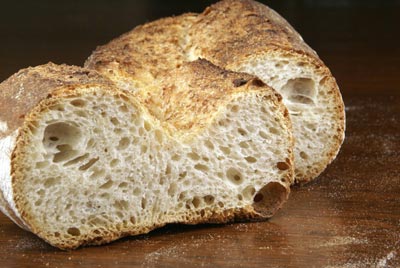 The method is straightforward and not difficult, but there are a few things to keep in mind:
The dough needs to be stiff or the loaves will collapse when turned on their sides for baking. (As with all of my recipes) reserve a portion of the water initially during the mixing, then add water as needed to achieve a stiff but workable consistency.
This recipe calls for a layer of bran to be sandwiched in along with the slurry. I have seen other recipes that use corn meal, whole wheat flour, or nothing at all except water. If you use bran or another flour or grain, make sure you do not sprinkle it too thickly, or the halves will separate from each other when the loaves are stood on their sides.
When cutting the loaves, make sure your implement is sharp (I use a dough scraper/cutter). Cut quickly, straight down on the dough; don't drag through it. You want to see a clean division between the two halves of the sandwich; if the halves are stuck together in spots so the seam is obliterated, gently separate them with your fingers or a sharp knife.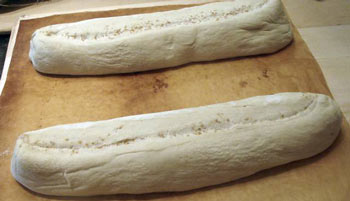 This bread is going to Zorra (1x umrühren bitte), who is doing me the favor and the honor of hosting YeastSpotting this week.
Pain de Beaucaire
(Adapted from SFBI)
Yield: 1500 g (3 loaves)
Time:
Build levain: 12 hours
Mix final dough: 10 minutes
First fermentation : 2.5 hours with a fold at 1 hour and 15 minutes
Shape: 10 minutes
Proof: 2.5 hours
Bake: 45 minutes
Desired dough temperature: 77F
Levain Ingredients:
132 g flour
15 g rye flour
147 g water
31 g mature 100%-hydration sourdough starter
Final Dough Ingredients:
Slurry Ingredients:
Other Ingredient:
Method:
Mix levain ingredients and ferment for 12 hours.
In a stand mixer with dough hook, combine all of the final dough ingredients in low speed. Adjust the water as needed to achieve a stiff dough consistency.
Continue mixing in low speed to a medium level of gluten development. This might take about 10 minutes, but will depend on your mixer.
Transfer the dough to a lightly floured container. Cover and ferment at room temperature for an hour and 15 minutes.
Turn the dough into a well-floured counter. Pat it into a rectangle 10 x 15 inches. Fold the dough in thirds, letter-style, brushing off excess flour as you fold. You should end up with a 5 x 10-inch rectangle of folded dough.
Place the dough back into its floured container or onto a floured baking sheet, cover, and ferment for another hour and 15 minutes.

On a well-floured counter, pat or roll the dough into an 8 x 18-inch rectangle.
Make a slurry by whisking together 20 g of flour and 100 g of water. Brush the slurry generously over the surface of the dough.
Cut the dough in half so you have two 8 x 9-inch rectangles. Sprinkle one half evenly with bran.

Flip the un-branned half of the dough over onto the bran-covered half to make a sandwich with the wet sides and the bran in the middle.
With a dough cutter, cut the dough into three strips, each 3 x 8 inches.

Place the loaves in a lightly-floured couche. Cover and proof at room temperature for 2.5 hours. (If your oven is not big enough to bake all the loaves at once, proof for one hour and 45 minutes at room temperature, then refrigerate the loaves for at least 90 minutes before baking. They can be baked directly out of the refrigerator.)
Meanwhile, preheat the oven, with baking stone, to 475F. You will also need steam during the initial phase of baking, so prepare for this now.
To bake, carefully turn the proofed loaves on their sides so the seam is facing up. Placing them on parchment paper helps get them in the oven without falling over.
Once the loaves are in the oven, reduce the temperature to 450F. Bake for 10 minutes with steam, and another 25 minutes or so without steam. Then turn off the oven and leave the loaves in for another 10 minutes, with the door ajar.
Cool on a wire rack.