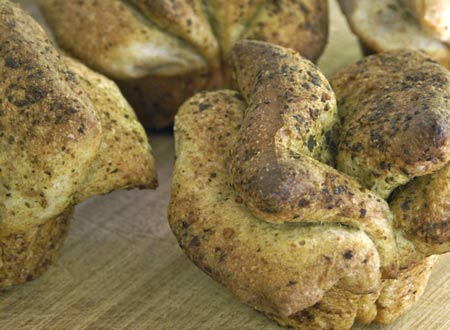 I'm a big fan of pesto. In recent years I haven't made it as much as I'd like because I haven't had access to a ready supply of basil. Of course I could buy it, and sometimes did, but I got spoiled for fresh-picked basil pesto when we lived in Vermont and I had a decent vegetable garden, something I've never managed to quite get going in all the years we've lived in California. It's quite lame, actually.
I'm happy to report that this year, inspired by my brother-in-law's incredible garden, I now have a small plot of my own, a raised bed in our tiny but eminently sunny front yard. It's not what the real estate agents would tell you makes for optimal curb appeal in this suburban neighborhood, but the back yard is just too shady for most summer vegetables. Grass lawns are so 20th-century anyway.
I got a late start, so while other gardeners around here are already harvesting squash, peppers, and tomatoes, mine won't be ready for another few weeks. But I have herbs! Last night I picked the first basil of the season, and buried my nose in it for about 20 minutes before I got down to the business of making the pesto.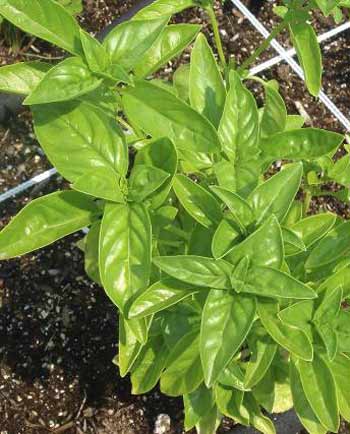 Luckily for this morning's baking, there were only two of us for dinner, so there was some pesto left over after dressing our fettuccine, and I knew exactly what I was going to do with it. KitchenMage's rosemary fans had caught my eye when she posted about them last year. The shaping was like nothing I had seen before: the technique so simple, the effect so charming, and the filling possibilities so varied.
I used pesto for half the rolls, and olive oil with chopped oregano for the other half. As kitchenMage suggested, really any fresh herb(s) would be lovely, and the oregano fans were. The pesto fans, though, were extra lovely, and if you're a pesto fan I humbly suggest saving some of your next batch so you can be a pesto fan fan too.
I am delighted to send these fans to Grow Your Own at Andrea's Recipes.
Pesto Fans and/or Herb Fans
Inspired by kitchenMage's Rosemary Fans
Yield: 12 pesto fans and 12 herb fans
Time:
Mix and ferment sponge: About 3 hours
Mix final dough: 10 minutes
First fermentation: 1 hour
Shape: 10 minutes
Proof: 45 minutes – 1 hour
Bake: 25 minutes
Desired dough temperature: 78F
Sponge Ingredients:
300 g whole wheat flour
300 g water
1 g instant yeast
Final Dough Ingredients:
800 g flour
100 g whole rye flour
475 g (approximately) water
48 g olive oil
24 g (4 t.) salt
4.5 g (1.5 t.) instant yeast
all of the sponge
Filling Ingredients:
For the pesto fans:
About 1/4 c. of your favorite pesto (mine follows)
For the herb fans:
2 – 3 T. olive oil
1 T. fine chopped fresh herbs
Method:
Mix the sponge ingredients and ferment at warm room temperature until approximately doubled, about 3 hours.
Combine all of the the final dough ingredients (reserving a little of the water) and mix by hand or on low speed in a stand mixer until well incorporated. Add water as needed to make a medium-consistency dough.
Continue mixing until the gluten reaches a medium-high level of development.
Ferment the dough for one hour at warm room temperature.
On a lightly-floured counter, roll the dough into an 18 x 24-inch rectangle. Cut the dough in half to make two 12 x 18-inch rectangles.
Spread a thin layer of pesto on one piece of dough. Brush the other liberally with olive oil and sprinkle with chopped herbs.

Cut the oiled, herbed rectangle in half to get two 9 x 12-inch rectangles. Place one on top of the other, keeping the oiled side up. Repeat so you have a 6 x 9-inch stack of four layers.
Cut the stack into 12 pieces. Use a dough cutter to cut straight down on the dough rather than dragging through it.

Stand the pieces on edge in the oiled muffin tin so that a clean-cut edge is pointing up. Use your fingers to fan the layers out a little.

Repeat with the pesto-spread dough.
Slip the rolls into a large plastic bag and proof for 45 – 60 minutes at room temperature, until nearly doubled in bulk.
Meanwhile, place an oven rack in the center of the oven and preheat to 425F.
Bake for about 25 minutes, until golden brown.
Cool for 10 minutes in the tins, then remove to a wire rack to complete the cooling.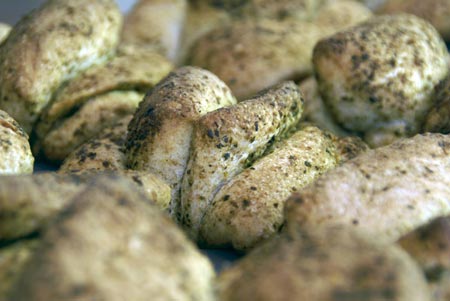 Pesto
Ingredients:
2 cups (packed) basil leaves
3 cloves garlic, chopped
1/4 cup pine nuts or chopped walnuts
1/3 cup olive oil
1 ounce finely grated parmesan cheese
salt and freshly-ground pepper, to taste
Method:
Place the basil, nuts, and garlic in a food processor. With the processor running, add the oil in a thin stream and process until the basil is very fine.
Add the cheese, salt, and pepper, and pulse several times to combine.