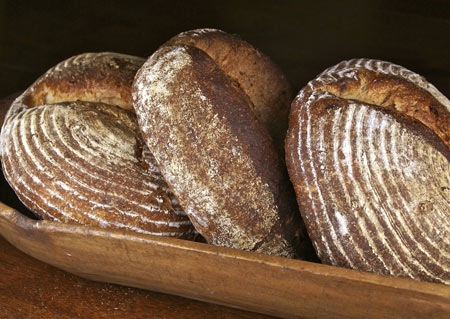 I made a lot of potato bread this weekend.
My intention was to make a simple sourdough bread with the addition of roasted potato nuggets that would stand up to the dough rather than receding into it, lending appreciable color, texture, and potato flavor.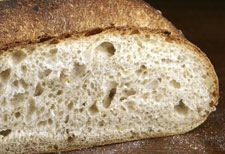 The first time around, that wasn't exactly how it played out, but I was still pleased with the bread. I roasted the potatoes at 350F so they were soft but not overly brown, with a few cloves of crushed garlic that I removed after roasting. Even having been left unpeeled, the potatoes did disintegrate almost completely into the dough. The result was a beautiful soft crumb with no discernible potato flavor, making it excellent for sandwiches (even PB&J) as well as accompaniment to the fantastic eggplant parmesan I had at the home of old East-coast friends who are now our neighbors (yes!).
As much as I liked the first loaves, I had not achieved what I set out to, so the following day it was more potato bread. This time I roasted the potatoes at a higher temperature (450F) so they developed more of a crust and a deeper flavor. The 3/4-inch pieces stayed semi-intact during mixing, giving the best of both worlds: a soft, mottled tan crumb studded with golden potato chunks and a definite potato flavor throughout. Definitely not a PB&J bread this time.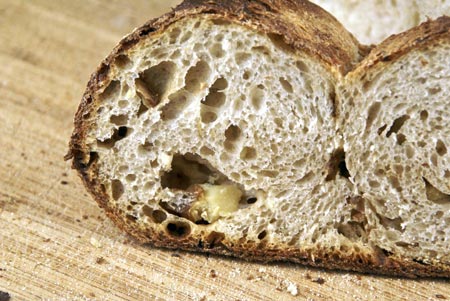 My loaves were shaped as boules and batards in the fendu style. The first time around, I divided the batch into two large fendu boules; for the second round (the top photo of this post), I made two boules of 700 grams each, plus a batard of 550 grams. Instructions for shaping a fendu loaf are here.
All five of these loaves go to Lien (Notitie van Lien) and Zorra (1x umrühren bitte) for BreadBakingDay #17, Bread with Potatoes.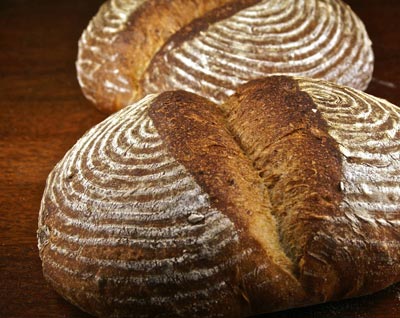 Roasted Potato Sourdough
Yield: about 1900 g (2 to 4 loaves)
Time:
Elaborate starter: however long yours takes
Prepare roasted potatoes: 1 hour, plus cooling time
Mix final dough: 45 minutes
First fermentation : 2.5 hours with folds at 50 and 100 minutes
Preshape, rest, and shape: 30 minutes
Proof: 2.5 hours
Bake: about 40 minutes
Desired dough temperature: 76F
Roasted Potatoes Ingredients:
600 g yellow potatoes (about 3 medium), unpeeled, cut into 3/4-inch chunks
4 cloves garlic, minced or crushed
1 t. Kosher salt
2 T. olive oil
a few coarse grinds of black pepper
Final Dough Ingredients:
600 g flour
250 g whole wheat flour
511 g water
17 g salt
300 g mature 100%-hydration sourdough starter
All of the roasted potatoes
Method:
For the roasted potatoes, combine all the ingredients and roast in a 350F – 450F oven (see notes above) for about 45 minutes. Let them cool completely before adding them to the dough.

Combine the flour, whole wheat flour, water, and starter in the bowl of a stand mixer with dough hook. Mix in low speed until the ingredients are roughly combined, adjusting the water to achieve a medium dough consistency.
Cover the bowl with a piece of linen and let the dough rest (autolyse) for 30 minutes.
Add the salt and continue mixing to a low-to-medium level of gluten development. This might take about 3 or 4 minutes, but will depend on your mixer.
Add the potatoes and mix in lowest speed until just incorporated.
Transfer the dough to a lightly oiled container. Cover and ferment for 2.5 hours, with folds after 50 and 100 minutes.
Turn the dough into a lightly floured counter. Divide into pieces of your preferred size (between 450 and 950 grams).  Preshape the dough into balls and let rest, covered, for 20 minutes.
Shape the dough into fendu rounds or batards and place them, upside-down, into floured brotforms, linen-lined bannetons, or a couche.

Proof at room temperature, covered, for 2.5 hours.
Meanwhile, preheat the oven, with baking stone, to 475F. You will also need steam during the initial phase of baking, so prepare for this now.
Once the loaves are in the oven, reduce the temperature to 450F. Bake for 10 minutes with steam, and another 20 minutes or so without steam (longer for larger loaves). Then turn off the oven and leave the loaves in for another 10 minutes, with the door ajar.
Cool on a wire rack.