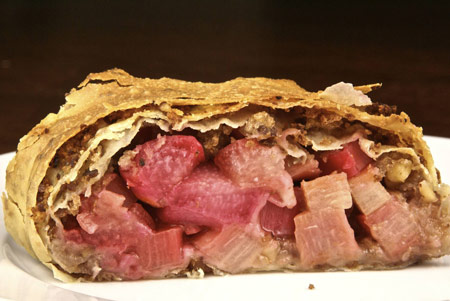 The May Daring Bakers' challenge was hosted by Linda of make life sweeter! and Courtney of Coco Cooks. They chose Apple Strudel from the recipe book Kaffeehaus: Exquisite Desserts from the Classic Cafés of Vienna, Budapest and Prague by Rick Rodgers.
I have a large piece of natural linen that until this week had been sitting around waiting for me to cut it into pieces for lining proofing baskets, or maybe sew a pair of summer pants. Not any more. Thanks to this month's Daring Bakers strudel challenge, this linen is now designated as my Official Strudel-Pulling-and-Rolling Cloth.
Because I'm sure I'll be making strudel again. Who knew gluten without yeast could be this fun, this easy, and this good?
The only problem with the cloth is the color; it exactly camouflages the strudel dough, making it impossible for me to show off my tissue-thin sheet. See what I mean?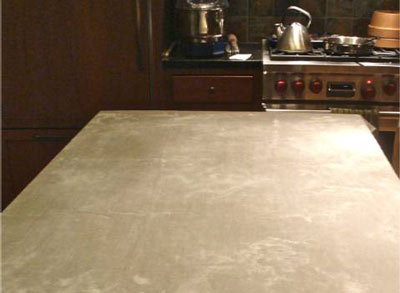 OK, so I forgot to photograph it until I got to this point:

There's no camouflaging with Dayglo-red rhubarb.
Rhubarb is my favorite spring fruit (vegetable, really), so it was worth having my strudel come out the color of fake crab on a cheap buffet. My adaptation of Rick Rodgers' apple filling (see Courtney or Linda for both filling and dough recipes) went like this:
Omit raisins and rum (I know…). Increase cinnamon to 1/2 teaspoon. Increase sugar to one cup (I know, again…). Use two cups of cherry-pecan bread crumbs. Substitute six cups of diced rhubarb for apples.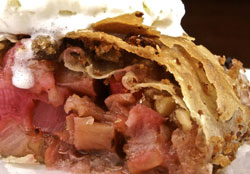 How did it taste? Well, to give you an idea, my husband gave his piece topped with ginger gelato his highest compliment: "That's good stuff."
Thanks to Linda and Courtney for a fantastic challenge, and to our Daring Leaders Lis and Ivonne for all they do to keep us rolling. And as usual, a world of Daring Bakers strudels of all colors is just a click away.