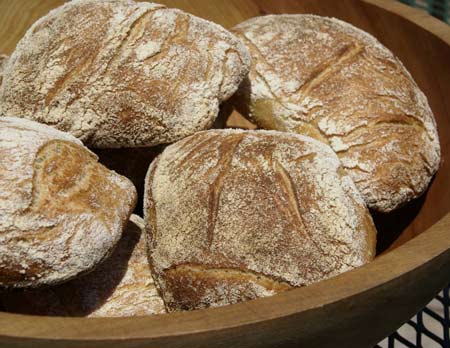 For sandwiches, sliced bread is great, soft rolls are wonderful. But sometimes nothing but a crusty roll will do to make you feel like you're holding a meal in the palm of your hand. And sometimes it just needs to be a ciabatta roll, with those nice big holes to harbor whatever filling is your pleasure of the moment..
But I confess I had more than good eating on my mind when I made these particular rolls. The high-hydration (i.e., wet) doughs that produce those accommodating holes can be especially difficult to handle, and I've always relied on my trusty mixer to see me through. I was curious to see, here in this bare-bones kitchen where all the mixing is by hand (and all the yeast is wild), whether I could pull it off.
For high-hydration doughs, I love the double-hydration technique, where a portion of the water is held back until the bulk of the gluten development is accomplished. I wasn't sure how well I could incorporate that last bit of water using my own mittens instead of a dough hook, but it turns out it was really not a problem. The resulting dough was goopier than when I mix by machine, but here's where the real magic began. I've long been convinced of the power of the fold for developing dough, but I was still awestruck by the ability of that simple maneuver to turn this: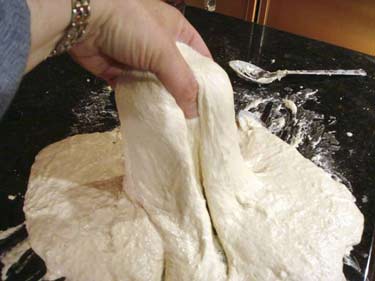 into this (after the first fold):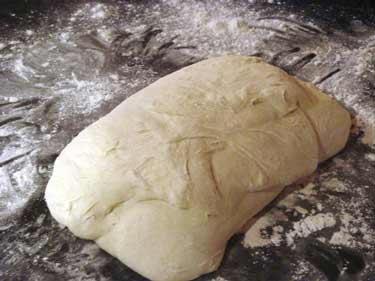 and then into this (after the third and final fold):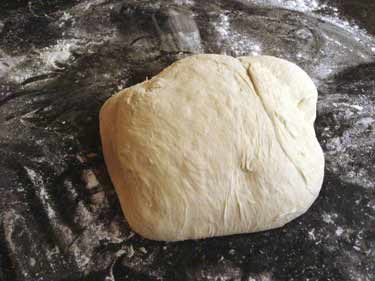 In retrospect I could have used a little more water and maybe one more fold, because, although the crumb was pretty open, I'd have liked it just a bit more so for a ciabatta. All in all, though, I was pretty happy with how these turned out. I'm not saying I'll mix all of my high-hydration doughs by hand from now on, but it's good to know I can if I want or need to.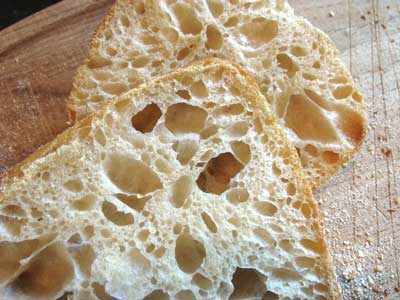 These rolls are my submission for this month's BreadBakingDay, hosted by Aparna (My Diverse Kitchen), who has chosen "Small Breads" as the theme of the month. Thanks to her and to BBD's founder, Zorra (1x umrühren bitte), for another great event whose roundup I'm eagerly anticipating.
Sourdough Ciabatta Rolls (Hand Mix)

Yield: 12 rolls
Time:
(Elaborate sourdough starter: however long yours takes)
Mix final dough: 10 minutes
First fermentation (mostly in the refrigerator): at least 9 hours, with folds at 30, 60, and 120 minutes
Warm up: 1 hour 45 minutes
Divide: 10 minutes
Proof: 1 hour 45 minutes
Bake: 30 minutes
Desired dough temperature: 72F

Ingredients:
465 g flour
76 g whole wheat flour
17 g salt
26 g olive oil
610 g mature 100%-hydration sourdough starter
355 g water
semolina flour and extra white flour for dusting
Method:
In a large bowl, combine flours, salt, olive oil, starter, and about 280 g of the water. Mix with your hands until the ingredients cohere.
Turn the dough out onto an unfloured counter and mix (knead) until the gluten reaches a medium-low level of development. This took me about 10 minutes.
Return the dough to the bowl and add the rest of the water, mixing by hand until it is completely absorbed. Add additional water as needed to make the dough very soft.
Clean the bowl, oil it lightly, and return the dough to it. Cover and ferment at room temperature for 2 hours, with folds at 30, 60, and 120 minutes. (Note: my folding video shows dough being folded right in the container. For this wet dough, it works better to turn it onto a very well-floured counter, making sure you brush off the excess flour after each stage of the fold so it doesn't get incorporated. Make sure your container is oiled before returning your dough to it, especially after the last fold. Put it in with the smooth side up.)
After two hours, place the dough into the refrigerator overnight.
After 7 – 12 hours, remove the dough from the refrigerator and let it warn up at room temperature for about 1.5 – 2 hours.
Dust your counter heavily with a 50/50 mixture of flour and semolina flour. Carefully turn the dough out, taking care to degas it as little as possible.
Starting at the center, gently stretch the dough out into a square about 1.5 – 2 cm in height.
With a dough cutter, cut the dough into 12 pieces.

Gently transfer the dough pieces, keeping the flour side down, to a couche that has been heavily dusted with the flour/semolina mixture.

Cover and proof at room temperature for about 1 hour and 45 minutes. The rolls should be very light.
Meanwhile, preheat the oven, with baking stone, to 475F. You will also need steam during the initial phase of baking, so prepare for this now.
Gently transfer the rolls to a piece of parchment, turning them so the floured side is up. Again, try not to degas the dough. (Depending on your oven capacity, you may need to bake in two batches.)

To bake, slide the entire parchment onto the baking stone. Once the rolls are in, turn the oven down to 450F. Bake with steam for 5 minutes, then another 15 – 20 minutes without steam. When the crust is as brown as you like it, turn off the oven, crack the door, and keep the rolls inside for another 5 minutes.
Cool on a wire rack.