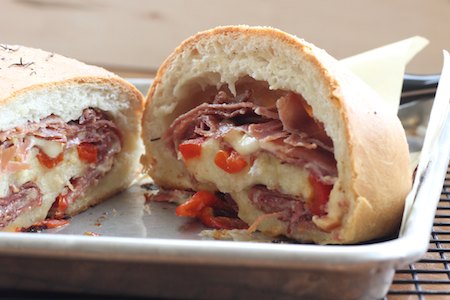 The thing I love about the Bread Baking Babes, aside from the fact that they are true bread sorceresses as well as babes in every sense of the word, is that I always learn something new with each assignment. This month I learned that Stromboli is not only Pinnocchio's evil puppet master, but a rolled Italian bread filled with all manner of deliciousness. Kind of like a spiral calzone.
Elle (Feeding My Enthusiasms) chose this one for us, based on Heather's (girlichef) tempting example. As Elle noted, the dough is fairly basic, so the focus can be on the filling. I made a few ingredient changes, substituting smoked mozzarella for the smoked Swiss, soppressata for the pepperoni, and adding a 12-ounce jar of roasted red peppers. Very tasty, but not meant for people on a low-sodium diet!
Behold the prosciutto, cheese, soppressata, peppers, basil, and garlic, ready to roll: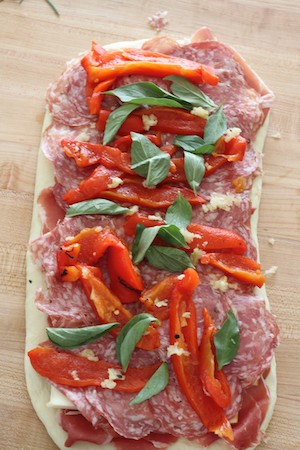 When I rolled it up, I predicted the filling would leak out…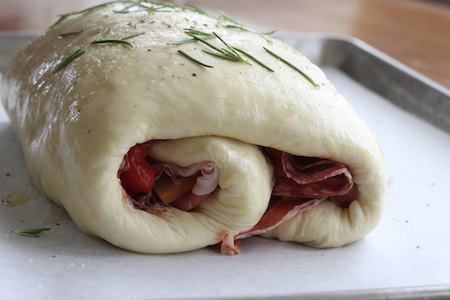 … yes indeed.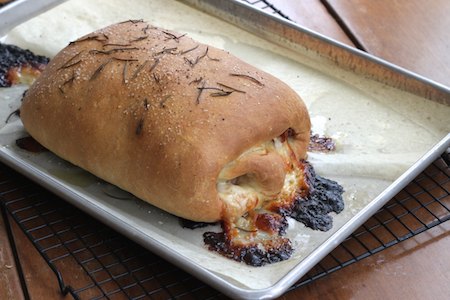 But I have to say, those charred bits of soppressata-infused smoke mozzarella did not make a bad snack in their own right.
For the full picture of how all we Babes roll, check out the Babes blogroll on my lower right sidebar. Then go roll your own, and send it to Elle by May 29!