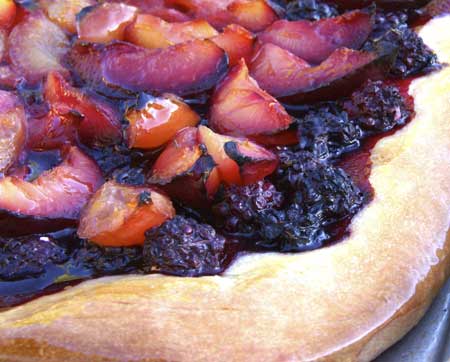 This tart was inspired by two things: the lovely sourdough plum cake I spotted a couple of weeks ago on Steffen's Dinners, and the abundance of blackberries that grow all over this wild little town I have called home for the last two weeks.
The plums are just beginning to ripen, too. The red and purple ones I used for this were just this side of still-hard, so they made for a nicely tart tart. I also used a few wild fennel fronds to scent the blackberry filling.
As with all doughs here in this minimalist kitchen, I mixed by hand. The dough has very little sourdough starter in it, so it takes a long time to ferment. I mixed it the night before and had the fresh-baked tart for breakfast. The dough doesn't proof a second time after shaping the tart, so the crust is dense and crisp, almost like a cookie. Good for standing up to juicy berries.