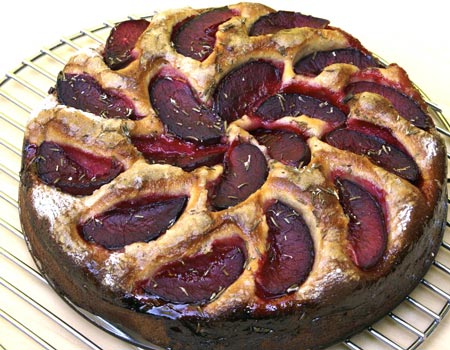 The timing of this is really unfortunate. I'm on vacation now, but I baked this olive oil plum cake before I left. It was great. Really great. I told myself I would post about it while I was away, and obviously I am, but on vacation sometimes you're just so busy doing nothing that you don't have time to do much of anything.
So this cake gets short shrift because I can't muster an honest post for it. It's so sad, because this is a really great cake. In fact, if I could pick one thing I have baked in the past few months that I would not have wanted to give short shrift, it would be this cake.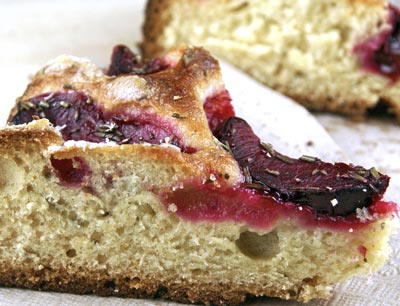 This goes to Stefanie (Hefe und Mehr) and Zorra (1x umrühren bitte), who will, I hope, agree with me that a yeasted cake qualifies as a sweet bread for the purposes of BreadBakingDay #22. It also goes to Nick (imafoodblog), who is graciously hosting YeastSpotting for me this week.
Yeasted Olive Oil Plum Cake
Yield: one 10-inch cake
Time:
Mix: 20 minutes
First fermentation : 2 hours
Assemble: 5 minutes
Proof: 1.5 hours
Bake: 40 minutes
Dough Ingredients:
250 g flour
66 g milk
6 g (2 t.) instant yeast
4 g (2/3 t.) salt
100 g eggs (2 eggs)
grated zest of one lemon
1 t. chopped fresh rosemary
55 g fine granulated sugar
113 g olive oil
Topping Ingredients:
3 large, firm plums, sliced
1 t. chopped fresh rosemary
34 g fine granulated sugar
Method:
In the bowl of a stand mixer with paddle, combine the flour, milk, yeast, salt, eggs, lemon zest, and rosemary. Mix in low speed until incorporated. The dough will be stiff at this point.
Replace the mixer paddle with a dough hook. In medium speed, gradually add the sugar in 5 or 6 increments, mixing for about two minutes between each addition.
Continue mixing in medium speed until the dough starts to come together around the hook.
Change back to the mixer paddle. Add the olive oil and mix in low speed until it is incorporated. This will take a while.
Transfer the dough to a lightly oiled container. Cover and ferment at room temperature for 2 hours.
Press the dough into a disc and into an oiled 10-inch springform pan.
Press the plum slices into the dough.
Cover and proof for 1.5 hours at room temperature.
Meanwhile, preheat the oven to 400F.
Before baking, sprinkle the cake with rosemary and sugar.
Bake at 400F for 10 minutes, then reduce the heat to 350F and bake for another 30 minutes or so, until the cake is golden brown and the plums are releasing their juice.
Cool on a wire rack in the pan for 10 minutes, then release the pan and continue to cool.