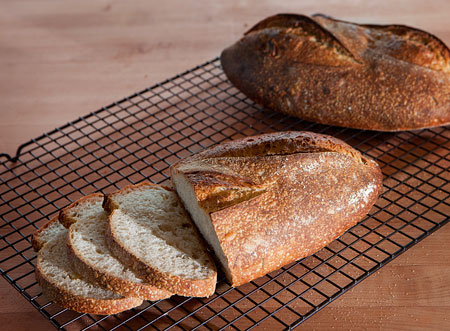 Like the timeless little black dress, a good basic sourdough recipe is the consummate staple: perfect all on its own, but a stunning platform for any embellishment that strikes your mood. This is Norwich Sourdough with rosemary and roasted garlic cloves… garlic bread without all the butter!
In general, "chunky" additions such as nuts, seeds, fruits and vegetables are best added at the end of mixing to avoid interfering with the development of the gluten. Mix the dough to, or a little past, the desired level of gluten development, then mix in the additions just until they are evenly distributed.
The easy roasted garlic recipe was adapted from the always-inspiring Simply Recipes. I roasted mine until it was very soft, so the cloves largely disintegrated into the dough with mixing, giving the bread a strong overall garlic flavor. Roasting until barely fork-tender would allow them to maintain their identity. Either way, this is a garlic -lover's bread, and the classic pairing of rosemary and garlic never disappoints.