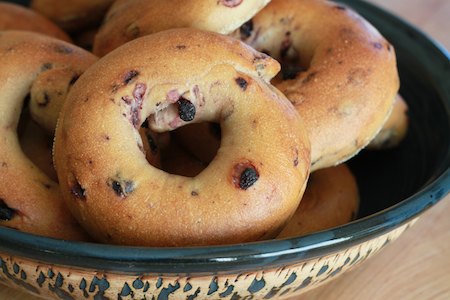 Blueberries are everybody's darling lately: antioxidant-rich, cancer-fighting, cholesterol-lowering, brain-sharpening, blood pressure-controlling, diabetes-battling. And they taste good, too! Even when they're not in season, I usually keep a bag on hand in the freezer for smoothies, and a store of dried berries to throw into my oatmeal.
I can't imagine why it took me this long — that is, until my number-one bagel eater made the request — to make blueberry-studded bagels. To keep the berries as intact as possible, I incorporated the dried berries into the mostly-mixed dough without soaking them first. I did make the dough a bit wetter than usual to allow for the berries' absorption of some water.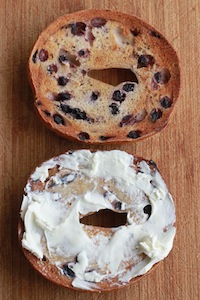 If you haven't made bagels before, don't be intimidated! Bagels are one of my favorite things to make. There's lots of hands-on time with the dough, a plus in my book. For more of my bagel opinions, take a look at my basic 100%-sourdough bagel recipe.