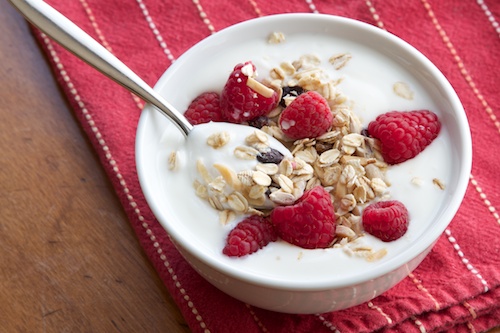 There's always a lot of fermentation going on around here. Yeast is doing plenty of that work, but bacteria also get in on the action. Sourdough cultures contain — along with wild yeast — one or more strains of Lactobacillus, which produce the acids responsible for the "sour." But lactobacilli like to ferment other things in addition to flour; they help turn cabbage into sauerkraut, cacao into chocolate, and apples into cider.
Then of course there's milk, for which the bacteria were named in the first place. Lactobacilli love lactose (the sugar in milk), and the resulting yogurt loves us! Medical research suggests that regular consumption of yogurt, like other fermented foods, has beneficial effects on cholesterol, immune function, and digestive tract health (some references for these claims are listed below). Yogurt is also rich source of calcium and protein, and can often be enjoyed even by people who are lactose-intolerant.  Or you could forget all that and eat it just because it's tangy and creamy and delicious.
In any case, the good news is that it's simple to make your own. Heat the milk, add a little "starter" (store-bought yogurt or some of your own from the last batch), keep it warm for a few hours, and you're done. No really, it's that simple.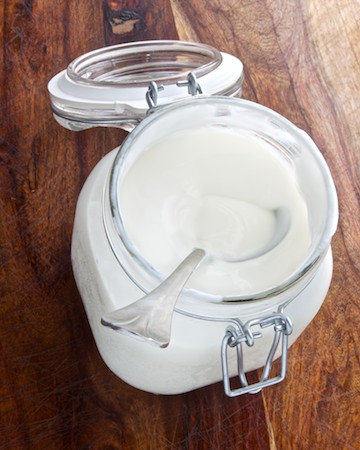 I love my Brod and Taylor proofer for making yogurt. It maintains a constant and easily adjustable temperature, and you don't need special containers like you do for a specialized  yogurt maker; any glass or ceramic jars will work, as long as they fit inside the roomy box. The yogurt-making method on Brod and Taylor's website is easy, relatively fast, and yields a smooth, mild-flavored yogurt that has earned wonderful reviews from everyone I've fed it to. In fact, while I can't tolerate the very sour flavor of plain store-bought yogurt, I can eat this without any accompaniment at all — although a sprinkling of muesli and a few raspberries certainly don't hurt!