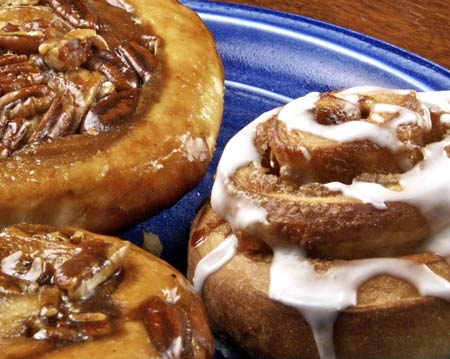 If you want to win friends and influence people, you could read Dale Carnegie's book and get some excellent advice. But I've found a faster way: bake cinnamon rolls and sticky buns.
Which is not to say that my way is at all inconsistent with Carnegie's. Here are some of his principles:
Arouse in the other person an eager want. Simply pulling these rolls out of the oven should do the trick.
Start with questions the other person will answer yes to. "Can I interest you in a cinnamon roll? How about a sticky bun?"
Make the other person happy about doing what you suggest. "I suggest you clean the garage and then you can have one."
See how that works? They will be putty in your hands.
You can of course tailor the recipe to your own tastes and those of your influencees. Substitute another spice, or a combination of spices, for the cinnamon. Add chopped dried fruits to the filling. Try a little citrus zest in the dough.
The formula calls for osmotolerant instant yeast (SAF Gold), which is designed for high-sugar doughs. It is available from online sources such as King Arthur Flour, but if you don't have it you can use regular instant yeast.
Be careful when inverting the tray of hot sticky buns; if the hot glaze spatters your skin you will be very sad. Allowing it to cool for a minute or two makes this less likely. Lay a piece of parchment on top of the buns (still on their baking sheet), and a second baking sheet face down on top of that, so you have a "sandwich" with the two baking sheets as the bread. Grasp the sandwich firmly at each end, pressing the sheets towards each other while quickly flipping the entire thing over, away from yourself.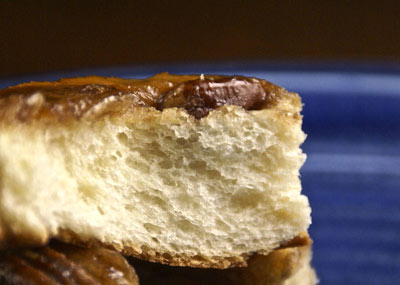 Sticky Buns and Cinnamon Rolls
(Adapted from SFBI)
Yield: 8 cinnamon rolls and 8 sticky buns
Time:
Mix: 20 minutes
First fermentation : 1 hour, then overnight in the refrigerator
Shape: 15 minutes
Proof: 1.5 hours
Bake: 20 – 25 minutes
Desired dough temperature: 77F
Dough Ingredients:
560 g flour
140 g cake flour
280 g cold water
14 g instant yeast (preferably osmotolerant)
14 g salt
35 g milk powder
105 g (2 large) eggs
140 g sugar
210 g butter, cut into 1/2-inch cubes, softened
Filling and Topping Ingredients:
140 g pecans: 75 g very coarsely chopped and 65 g chopped somewhat more finely
180 g cinnamon sugar (recipe follows)
350 g sticky bun smear (recipe follows)
White icing (recipe follows)
Method:
Place all of the dough ingredients except the sugar and the butter in the bowl of a stand mixer. Mix in low speed until well combined. The dough will be quite stiff at this point.
Mix for a minute in medium speed, then add the sugar in 4 or 5 increments, mixing for a minute or two between each addition.
Continue mixing in medium speed until the gluten is almost fully developed.
Add the softened butter all at once. Mix for a minute in low speed, then in medium speed until the butter is completely incorporated and the gluten is fully developed.
Transfer to a covered container. Ferment at room temperature for one hour, then refrigerate overnight.
When you are ready to shape and bake the rolls, line two baking sheets with parchment paper. At least one sheet must be rimmed.
Portion the sticky bun smear into 8 dollops (each about 1.5 T.) spaced evenly on one (rimmed) sheet. Sprinkle the 75 g of coarsely chopped pecans on the dollops.


(Do you reuse your parchment? The dark stains on this sheet are from the Daring Baker's eclairs.)

On a lightly-floured counter, roll the chilled dough into a rectangle 22 inches long and 16-18 inches wide.
Brush the entire surface of the dough with water, then sprinkle evenly with cinnamon sugar, leaving a 1-inch margin along one long edge of the dough.
Sprinkle half of the dough with 65 g chopped pecans. (This half will become the sticky buns.)

Starting at the edge opposite the sugar-free margin, roll the dough rather loosely into a log.
Cut the roll into 16 rounds. Place the 8 sticky bun rounds (the ones with the pecans) on top of the smear dollops and press down lightly. Evenly space the cinnamon roll rounds on the other baking sheet.

Cover and proof for 1.5 hours at room temperature.
Meanwhile, place racks in the upper and lower thirds of the oven and preheat it to 400F.
Bake for 12 minutes with the sticky buns on the bottom rack and the cinnamon rolls on the top. Then swap the positions of the sheets and bake for another 7 minutes or so, until the cinnamon rolls are golden brown. Remove the  cinnamon rolls, move the sticky buns back to the bottom rack, and continue baking them for another 4 minutes or so. Make sure the bottoms (which will become the tops) are nice and brown.
Slide the cinnamon rolls, still on their parchment, onto a cooling rack. While they are still warm but not hot, drizzle them with white icing.
Once the sticky buns are out of the oven, let them cool for a minute or two, then invert the sheet of buns onto another parchment-lined baking sheet. Then slide the bun-laden parchment onto a cooling rack.
Serve the rolls and buns while still warm.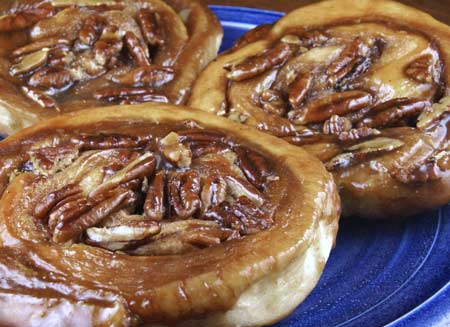 Cinnamon Sugar
Yield: 180 g (enough for 16 rolls/buns)
Ingredients:
88 g white sugar
88 g brown sugar
5 g (2 t.) cinnamon
Method:
Combine all ingredients.
Store tightly covered until ready to use.
Sticky Bun Smear
Yield: 350 g (enough for 8 sticky buns)
Ingredients:
175 g brown sugar
100 g unsalted butter
1.5 g (1/4 t.) salt
1.5 g (1/2 t.) cinnamon or cardamom
68 g honey
4 g (1 t.) vanilla extract
Method:
Cream butter and brown sugar together.
Add remaining ingredients and blend well.
Store in the refrigerator but bring to room temperature before using.
White Icing for Cinnamon Rolls
(Adapted from The Bread Baker's Apprentice by Peter Reinhart)
Ingredients:
240 g powdered sugar
1/2 t. lemon or orange extract
3 – 4 T. warm milk
Method:
Sift the powdered sugar.
Whisk in the lemon or orange extract and 2 T. of the milk.
Continue adding milk slowly until the icing is a drizzle-able consistency.
Use immediately.