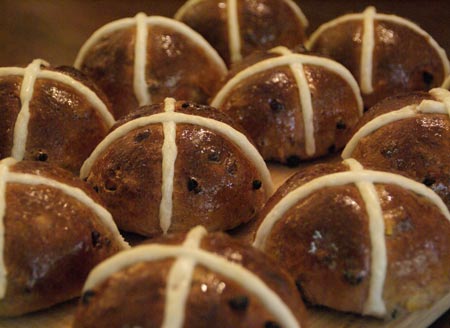 One of the first nursery rhymes I remember learning was Hot cross buns! Hot cross buns! One-a-penny, Two-a-penny, Hot cross buns!
When my mother was ticked off about something, she always said she was "cross." So when I sang the rhyme, an image of grouchy buns languishing in summer heat would paint itself across my mind's little eye. I suppose I imagined they were cross because wasn't being hot (in those days when that wasn't a good thing) enough to make anybody cross?
I've understood for quite some time that "cross" refers to the buns' decoration and not their state of mind, but it was only recently that I learned that hot cross buns are a traditional spring celebration bread.
Although hot cross buns have been associated with Easter for several centuries, they probably predated Christianity. Small cakes or loaves adorned with an equilateral cross were offered to deities in ancient cultures such as early Egypt and Greece. The feast of Eostre, the Anglo-Saxon goddess of spring (from whom Easter derived its name), was celebrated at the vernal equinox. The cross on the sacramental cakes eaten during the feast may have symbolized the balance (between light and darkness) of the equinox, the four quarters of the moon, or the symmetry of the seasons.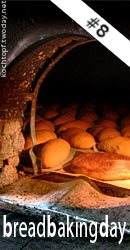 So even if you don't celebrate Easter in the Christian faith, you might still celebrate the vernal equinox, with its wonderful promise of rebirth and renewal, as I am, with hot cross buns.
The buns are my contribution to BreadBakingDay #08: Celebrate! I am also happy to be hosting this event, created by Zorra, and I urge everyone to participate by baking your own seasonal celebration bread.
This recipe is adapted from that in Jeffrey Hamelman's Bread: A Baker's Book of Techniques and Recipes. The buns are soft, lightly sweet and lightly spiced. The crosses, like those on Hamelman's buns, are made with a paste of flour, oil, and water, in the traditional English style. It is piped on before baking and has a nice crunch once baked. If you prefer, you could instead apply sweet icing crosses after baking.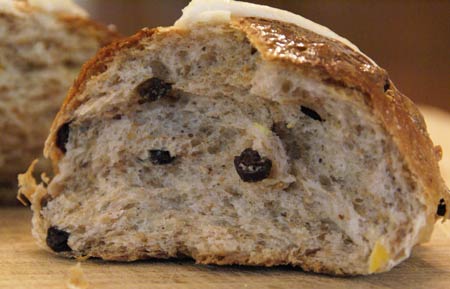 Hot Cross Buns

Yield: 12 buns (about 70 g each)
Time:
Mix/ferment sponge: 40 minutes
Mix final dough: 15 minutes
First fermentation: 1 hour, with a fold at 30 minutes
Divide and shape: 10 minutes
Proof: 1 hour
Pipe crosses: 10 minutes
Bake: 15 minutes
Glaze: 5 minutes
Sponge Ingredients:
37 g flour
190 g milk at about 100 degrees F
9 g (1-1/2 t.) sugar
7.4 g (2-1/4 t.) instant yeast
Final Dough Ingredients:
170 g flour
170 g whole wheat flour
60 g butter, softened
57 g sugar
50 g (1 whole) egg
3 g (1/2 t.) salt
1/2 t. ground allspice
1/2 t. ground cinnamon
1/4 t. ground nutmeg
1/4 t. ground ginger
114 g dried currants
20 g candied orange peel, finely chopped
20 g candied lemon peel, finely chopped
Piping Paste Ingredients:
170 g pastry flour
50 g vegetable oil
120 g water
Glaze Ingredients:
Method:
For the sponge, combine milk and yeast in a medium bowl. Whisk in flour and sugar. The mixture will be very liquid. Cover and let rest until it is about 3 times its original volume, 30 – 40 minutes.
In the bowl of a stand mixer with paddle, mix final dough flour, whole wheat flour, and softened butter until the butter is evenly distributed through the flour.
Add egg, sugar, spices, and salt. Continue to mix until combined. The mixture will be quite dry at this point.
Replace the mixer paddle with the dough hook. Add the sponge and start mixing in low speed. Add water as needed to make a very soft dough (I added about 1 T.) and mix until well combined, about 3 minutes. It is almost more like a cookie dough at this point, and will not come together yet.
Mix in medium speed, occasionally scraping the dough down the sides of the bowl. When the dough starts to leave the sides and come together around the dough hook, the gluten should have reached a medium level of development. This may take about 8 minutes, but will depend on your mixer.
Add the currants and orange and lemon peels. Mix in low speed just until they are evenly distributed through the dough.
Transfer the dough to a lightly oiled, covered container. Ferment in a warm place for one hour, with a fold at 30 minutes.
Turn the dough onto an unfloured counter and divide it into 12 pieces (about 72 g each).
Lightly degas each piece of dough and tuck the edges under to form a loose ball. To tighten the ball, place it on the counter with your cupped hand loosely around it, and move your hand in a tight circle several times.
Place the balls on a parchment-lined baking sheet. Press them lightly with your palm to flatten them a bit.
Cover and proof in a warm place for about an hour.
While the buns proof, make the glaze. Combine the sugar and water in a small saucepan and bring the mixture to a rolling boil, stirring often. Remove from the heat and set aside.
Now make the piping paste. Sift the pastry flour and combine it with the vegetable oil. Slowly add water, stirring well after each addition, until the mixture reaches the consistency of very thick glue. Don't make it so thin that it runs, but if it is too thick it will be difficult to pipe.
Preheat the oven to 440F.
When the buns are finished proofing, pipe the crosses onto them using a pastry bag fitted with a 1/4-inch round tip.

Bake the buns on the parchment-lined sheet at 440F until the tops are browned, about 7 minutes. Reduce the heat to 400F and continue baking until browned all over, about another 8 minutes.
While the buns are still hot, brush them with a light coating of glaze.