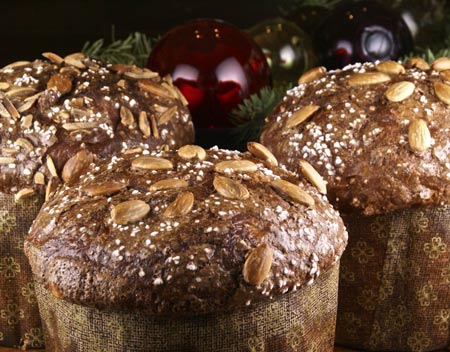 About three years ago, it came to my attention that my pressurized toilets were, literally, ticking time bombs.  Nothing bad happened, but it was only a matter of time. I knew this because the company was offering to replace those toilets with new (plain old, non-pressurized) toilets. Free shipping and everything. You'd have to pay for the plumber to install the new ones, but still, replacing them seemed like a no-brainer when you read things like "worst case, they explode and flood the house."
A simple phone call and everything was arranged, no questions asked. My new toilets would be sent out by UPS within a week. All I had to do was sit back, relax, and hope my back end didn't meet that worst-case scenario before those babies arrived.
Sure enough, a few days later I came home from work to find one of those UPS post-its on my front door. The gist was, "We tried to deliver your toilets but you weren't home. We'll be back tomorrow. Please be home." Well, I wouldn't be home tomorrow either, but surely this could be fixed with a phone call to the UPS Lady.
Me: Can you please leave my toilets in my driveway tomorrow?
UPS Lady: I'm sorry, ma'am, those items require a signature. We can't leave them unless someone is home to sign for them. You have five business days to take delivery before we have to send them back.
Me: Can I waive that signature thing?
UPS Lady: No, ma'am, the vendor has specified that a signature is required. The truck driver can't ignore that, because then he would be responsible if the items were damaged or stolen after he left them.
Me: They are toilets! You leave things like iPods and TVs on my doorstep all the time when I'm not home to receive them.
UPS Lady: I can't comment on that.
Me: I will release you from any liability, and take my chances. I just don't think there's a huge market for hot toilets.
UPS Lady: No, sorry. But you could come and pick them up. We're open until 10 p.m.
Me: Sure, I'll just throw both of those 100-pound, roughly grizzly-bear-sized boxes in my trunk. No problem.
UPS Lady: We can deliver them to an alternate address. Your work, maybe?
[I can picture it now: I'm examining a patient when I get a page on the PA. "Susan, please come to the front and sign for your johns."]
Me: I don't think so.
UPS Lady: What would you like me to do?
[I somehow refrain from answering this honestly.]
Me: Fine. Bring them on Wednesday. Can you at least give me a time window?
UPS Lady: Well of course I can! Your items will be delivered sometime between 8 a.m. and 9 p.m. on Wednesday. I have you on the schedule. Is there anything else I can help you with?
This is how I came to take a day off work on a Wednesday in 2006. I stayed home all day, waiting, waiting… and the toilets did finally arrive at around 7 p.m., I think.
The kicker is that those things have not given me a moment's peace in three years. And of course, never do they act up more than during the holidays, when the house is full of people. I'll spare you the details, but they would not make Sir Thomas a happy Crapper. And they're not even comfortable to sit on, for crying out loud. Talk about a couple of incommodious commodes.
Some things are just not worth staying home and waiting for.
Panettone, however, is.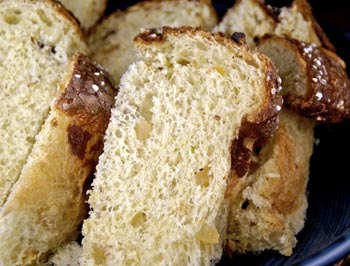 Panettone with Citrus, Chocolate and Ginger
(Note: For general information on making panettone, please read my original panettone post.)
Yield: 1550 g (3 loaves)
Time:
Develop the sweet starter (assuming you start with a healthy sourdough starter): every 4 hours for 2 days, at 85F
Mix and ferment first dough: 12 hours at room temperature
Mix final dough: 30 minutes or more
Ferment final dough: 1 hour, with a fold at 30 minutes
Proof: about 6 hours at 80F, or 12 hours at room temperature
Bake: about 45 minutes
First Dough Ingredients:
Final Dough Ingredients:
93 g flour
60 g water
5.6 g (scant 1 t.) salt
All of the first dough
29 g egg yolk
scraped seeds from one vanilla bean
grated zest of half a large orange
93 g sugar
142 g butter, softened (not melted; should be pliable)
21 g honey
50 g dark chocolate, cut into 1/4 – 1/2-inch chunks
60 g candied ginger, finely diced
80 g chopped candied lemon peel
150 g chopped candied orange peel
Glaze Ingredients:
82 g granulated sugar
4 g ground almonds (or almond flour)
6 g vegetable oil
6 g corn flour
6 g cocoa powder
45 g egg whites
1/4 t. vanilla extract
Topping Ingredients:
powdered sugar
pearl sugar
whole or slivered blanched almonds
Special Supplies:
three 5-1/24-inch paper panettone molds
3 bamboo skewers
Method:
Mix all of the first dough ingredients just until combined. Place the dough in a covered, lightly oiled container and ferment for 12 hours at room temperature.
In the bowl of a stand mixer, combine the flour, salt, egg yolks, orange zest, vanilla seeds, first dough, and about a third of the water. Mix in low speed until the ingredients are just combined, about 3 minutes.
Turn the mixer to medium speed if it has one, mix for a minute or two, then continue to mix while slowly adding the sugar, in about 5 or 6 increments. Mix for one to two minutes between additions.
Continue to mix until the dough pulls away from the sides of the bowl and the gluten is almost fully developed.
Turn the mixer back to low speed and add the butter. Mix for a minute in low speed, then in medium speed until the butter is completely incorporated into the dough and the gluten has reached full development.
In low speed, add the honey, and enough of the remaining water to give you a very soft dough.
In low speed, add the chocolate, ginger, and candied peels, mixing just until they are evenly distributed.
Place the dough in a covered, lightly buttered container. Ferment at room temperature for one hour, folding the dough after the first 30 minutes.
Turn the dough onto a well-buttered surface. Divide the dough into three pieces, and form each piece into a light ball.
Allow the balls to rest (may be left uncovered) for 20 minutes. Meanwhile, skewer each paper mold by piercing the side of the mold at the bottom edge, running it along the mold's bottom and out the other side.
Shape the dough into tight balls and place into the skewered molds.
Proof at 80F (inside a giant plastic bag with a bowl of warm water works well) for 4 – 6 hours, or about 12 hours at room temperature, until the dough is risen to an inch or so below the top of the molds.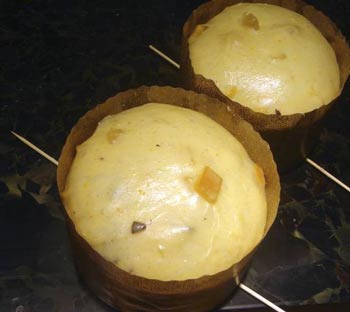 When the dough is nearly fully proofed, preheat the oven to 350F, with the rack in the lower third of the oven.
To mix the glaze, whisk all ingredients together. Pour, brush, or pipe the glaze evenly onto the top of the loaves (don't worry if there are some bare spots, or if the glaze pools where the dough meets the mold). Sift powdered sugar over the tops (it will melt in, but helps make a nice crust), then sprinkle with pearl sugar and a few blanched almonds.
Place the loaves directly on the oven rack and bake for about 40 – 45 minutes, until the tops are dark brown and the internal temperature is 185F. If the tops are already quite dark after 25 – 30 minutes, turn the heat down to 325F.
While the panettone is baking, set up your hanging apparatus (see original panettone post). When the bread is done, hang them as quickly as possible.
Allow the panettone to hang for at least four hours until completely cool, or up to overnight.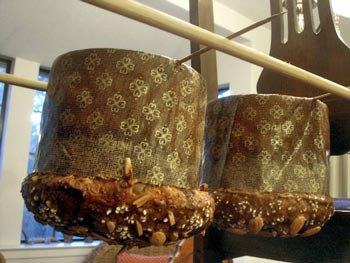 Note: These instructions assume you are starting with a vigorous "regular" sourdough starter. If you don't have a starter yet, here's how to start one.
If you are starting with a stiff (50%-hydration) starter, skip to step 2. If starting with a liquid (100%-hydration) starter, convert it to 50% by combining 40 g starter with 20 g flour. Ferment for 4 hours at 85F.
For each subsequent feeding (except the final one), discard all but 28 g starter, and add 20 g flour and 10 g water. Ferment for 4 hours at 85F. Repeat for about 2 days.
For the final feeding (4 hours before you will use it in the first dough), combine 56 g starter, 40 g flour, and 20 g water. Ferment at 85F. You will need 97 g for the first dough.