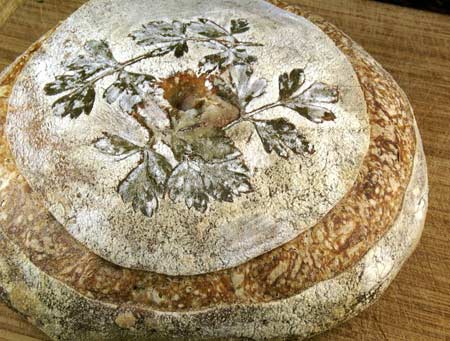 This is a bread I've had on my list for a while, and now I'm wondering what took me so long. Besides looking pretty, it's heaven on earth for garlic lovers. That would be me, and this summer I've been lucky to have a virtually unlimited supply of garlic from my brother-in-law's prolific garden. I'm happy to share this loaf for the World Bread Day event hosted by Zorra (1x umrühren bitte).
The recipe comes (with a few adaptations) from one of my favorite baking books, Maggie Glezer's Artisan Baking. Whether you are a beginning baker or an old hand, I think you'll love the meeting the farmers, millers, and bakers profiled therein who share a wealth of baking knowledge, skill, and recipes. This bread is from Della Fattoria, a small northern California bakery featured in the book. We don't get their bread in my immediate neighborhood, but I can tell you that on the occasions when I have picked up one of their loaves at the Ferry Plaza Farmer's Market in San Francisco, I have not been disappointed.
A dusting of flour is needed to protect the parsley from burning, but most of it can be brushed away after baking to bring the green leaves into the light. Even so, I would try using a bit less flour next time. Also, in the future I will not use a fine Microplane grater to grate the cheese. It was so fluffy and voluminous that when it melted down it left a good-sized cave in the center of the bread. But I'm still pretty happy with the way this turned out – crisp-crusted, cheesy, and mouthwateringly garlicky.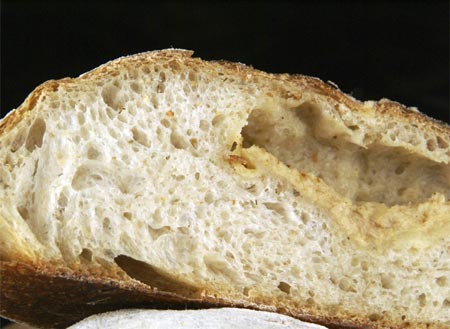 Roasted Garlic Bread
(Adapted from Della Fattoria's Rustic Roasted Garlic Bread in Artisan Baking by Maggie Glezer)
Yield: 2 loaves
Time:
Ferment the levain: 8 hours
Mix final dough: 30 minutes
First fermentation : 4 hours with folds at 30, 60, and 90 minutes
Preshape, rest, and shape: 30 minutes
Proof: 4 hours
Bake: 45 minutes
Desired dough temperature: 75F
Levain Ingredients:
Final Dough Ingredients:
500 g flour
390 g water
all of the levain
12 g salt
Filling and Embellishment Ingredients:
3 T. roasted garlic paste (recipe follows)
60 g grated hard cheese (I used Manchego; the original recipe calls for Dry Jack or Asiago)
2 whole unpeeled garlic cloves
8 whole parsley or cilantro sprigs
Method:
In a small bowl, combine the levain ingredients and mix with your hands until well incorporated. Cover and ferment for about 8 hours, until well expanded.
In the bowl of a stand mixer fitted with a dough hook, combine the fermented levain, flour, salt, and about 85% of the water (i.e., reserve about 60 g). Mix in low speed until combined.
Increase the speed to medium and continue mixing to a medium level of gluten development.
Add the remaining water and mix until it is incorporated. The dough will be very soft and will not come together around the dough hook, but it should have strength and elasticity.
Transfer the dough to a covered, lightly oiled container. Ferment for about 4 hours at room temperature, with folds after 30, 60, and 90 minutes. Initially the dough will be very slack and not hold its shape well, but will have significantly more body after the folds.

My dough immediately after the first fold.

Turn the dough into a lightly floured counter and divide it into two pieces. Preshape them into light balls and let them rest, covered, for 20 minutes.
For each piece of dough: Turn the dough smooth-side down on the floured counter. Gently press it into a thick disc. Spread 1.5 T. of the garlic paste in the center of the dough and top with half the grated cheese.

Pull the sides of the dough up around the filling to form a pouch. Turn the dough over and gently round the dough into a smooth ball, trying to keep the filling in the center. Pinch the seam on the bottom firmly closed.
Make a small x in the center of each loaf and twist an unpeeled garlic clove into it. Wet 3 or 4 parsley or cilantro sprigs and arrange them around the garlic.

Dust the loaves with flour and place them, decorated side down, into floured, linen-lined baskets.
Proof at room temperature, covered, for 4 hours.
Meanwhile, preheat the oven, with baking stone, to 425F. You will also need steam during the initial phase of baking, so prepare for this now.
Turn the proofed loaves onto a sheet of parchment paper and slash a circle around each, about an inch from the edge.

Slide the parchment paper with the loaves onto the baking stone. Bake for 10 minutes with steam, and another 25 minutes or so without steam, until the loaves are golden brown. Then turn off the oven and leave the loaves in for another 10 minutes, with the door ajar.
Cool on a wire rack. Brush excess flour from the parsley with a pastry brush.
Before serving, heat for 10 minutes in a 350-degree oven.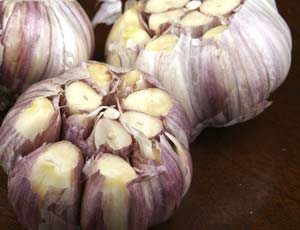 Roasted Garlic Paste
Yield: About 3/4 cup
Time: 1.5 hours
Ingredients:
3 whole heads of garlic
3 T. olive oil
salt and pepper to taste
Method:
Preheat the oven to 350F.
Cut about a quarter inch off the top of each garlic head to expose the raw cloves, but leave the heads whole. Remove any loose papery skin from the outside of the heads.
Place each head in the cup of a muffin tin, and drizzle with about a teaspoon of olive oil each. Cover the tops of the heads with foil.
Roast for about one hour until the cloves are soft.
Cool until handleable, then remove the cloves from their skins.
Mash together the garlic, 2 T. olive oil, and salt and pepper to taste.
Store in the refrigerator until ready to use.