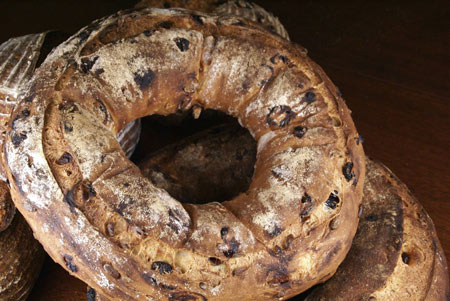 I served this semolina crown with cranberries, pine nuts, and fennel for Christmas dinner. It's a variation on a favorite of mine, Semolina Bread With Fennel, Currants, and Pine Nuts. The crown shape and substitution of dried cranberries for the currants make it a little more festive for a holiday dinner. (OK, so I'm a little late posting this in time for Christmas. But it would be lovely for New Year's dinner, too.)
With a cross-section similar to that of a baguette, a crown is a delight for crust lovers. To maximize crustiness, make sure you bake the loaf until it is good and dark. Any leftover bread can be sliced thinly and baked in a low oven until crisp for some toasts that are wonderful with your morning coffee or after dinner with a smear of goat cheese.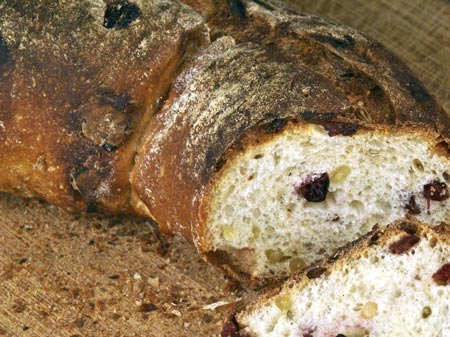 The crown should be proofed in a couronne basket, but if you don't have one you can rig one up with an inverted bowl placed in a large basket and draped with a piece of linen. It could even be proofed upside-down on a floured board, but it's easier to flip it over for baking if it's in a basket.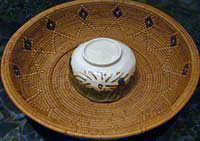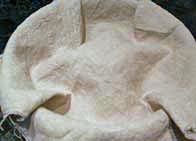 I'm sending this crown, along with warm wishes for a very happy New Year, to Annarasa and Zorra (1x umrühren bitte) for BreadBakingDay #15, Festive Breads.
Cranberry Semolina Crown With Fennel and Pine Nuts
Yield: 850 g (one crown)
Time:
Mix: 15 minutes
First fermentation: 1.5 hours
Divide/rest/shape: 30 minutes
Proof: 1.25 hours to 12 hours
Bake: 35 minutes
Desired dough temperature: 76F
Ingredients:
170 g flour
170 g semolina flour (coarse-ground)
190 g water
2.7 g (7/8  t.) instant yeast
8.5 g (scant 1.5 t.) salt
17 g olive oil
7 g (4 t.) whole fennel seeds
85 g dried cranberries
54 g pine nuts
Method:
In the bowl of a stand mixer with dough hook, combine the flour, semolina, water, yeast, salt, olive oil, and starter. Mix on low speed until just combined, about 4 – 5 minutes. Adjust the water as needed to achieve a medium dough consistency, similar to a regular French bread dough.
Mix on medium speed to a medium level of gluten development. This might take about 4 or 5 minutes, but will depend on your mixer.
Add the cranberries, fennel, and pine nuts. Mix on low speed just until they are evenly incorporated into the dough.
Transfer the dough to a lightly oiled container. Cover and ferment at room temperature for 1.5 hours.
Turn the dough into a lightly floured counter. Preshape it into a light ball and let rest, covered, for 15 minutes.
Shape the dough into a tight ball, cover, and let rest for another 15 minutes.
To form the crown shape, pierce the ball in the center with your elbow, then pick the dough up and gently turn and stretch it evenly until the hole is about 5 inches in diameter.

Place the shaped crown upside-down into a flour dusted, linen-lined couronne basket (or a makeshift one).

Proof at room temperature, covered, for about 1 hour and 15 minutes. Or proof at room temperature for 30 minutes, then refrigerate for 2 – 12 hours.
Meanwhile, preheat the oven, with baking stone, to 460F. You will also need steam during the initial phase of baking, so prepare for this now.
Just before baking, flip the crown right-side-up onto the peel and slash once in a circle around the crown.

Once the crown is in the oven, reduce the temperature to 440F. Bake for 10 minutes with steam, and another 25 minutes or so without steam. The crust should be a dark golden brown. Then turn off the oven and leave the loaf in for another 5 minutes, with the door ajar.
Cool on a wire rack.