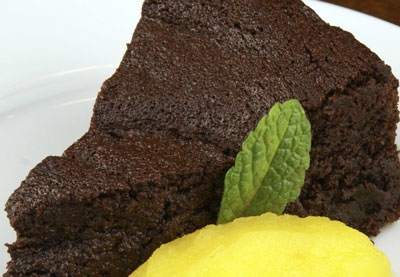 The February 2009 challenge is hosted by Wendy of WMPE's blog and Dharm of Dad ~ Baker & Chef. We have chosen a Chocolate Valentino cake by Chef Wan; a Vanilla Ice Cream recipe from Dharm and a Vanilla Ice Cream recipe from Wendy as the challenge."
Disclaimers: I know I'm not quitting my day job. I know my naked flourless chocolate cake with tangerine sorbet is pedestrian compared to many of the brilliantly creative things the other Daring Bakers did with this challenge. I know orange and brown is harsh, and arguably an appropriate color scheme only for a month that contains Halloween.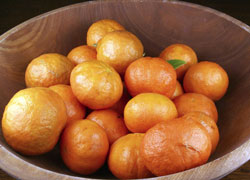 However: I made it. Nothing went wrong. It was rich and delicious. I will make it again (maybe with raspberry sorbet next time though). Thanks to Wendy (WMPE's Blog) and Dharm (Dad ~ Baker & Chef) for giving us something I could actually do, thanks to Scharffen Berger for some pretty fine chocolate, thanks to David Lebovitz for the sorbet recipe, and thanks to my benignly neglected tangerine tree for the fruit.
But what's this, nothing went wrong? No blistered fingers, no attack of the killer caramel, no lazy oven, no earrings baked into the cake? Really, I've come to count on these tribulations to give me something fun to say (fun to write if not to read). So what do I say now?
Fortunately, I have a joke I have been saving for just such an occasion. It comes by way of my daughter (whose delivery is so much better than mine):
A man walks into a library.
MAN: "Can I have a cheeseburger?"
LIBRARIAN: "Sir, this is a library."
MAN [Whispering]: "Oh, sorry. Can I have a cheeseburger?"
OK, well I thought it was fun.