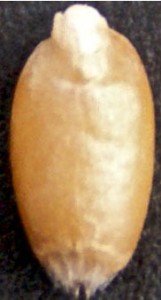 Last year I took a workshop on whole grain breads at SFBI, in which we sprouted some wheat berries and used them in two breads. I loved those breads so much that afterwards at home I promptly got some wheat berries of my own, set them to sprouting, ground them up, and put them in the refrigerator with the intention of baking with them within a few days.
Well… one thing and another kept me from getting to that sprouted wheat for quite some time… and when I finally opened up the container I got a nose full of fumes that left no doubt as to what "grain alcohol" is all about. So consider yourself warned: sprouted wheat does not keep forever in the refrigerator; it will, given enough time, ferment itself into oblivion. If you're going to go to the trouble of sprouting it, make sure you have a plan for using it.
That batch was destined for the compost pile, but I did better this time. If you guessed that this is a batch of ground sprouted wheat berries that I prepared for my BreadBakingDay #11 (bread with sprouts) offering, you were absolutely right.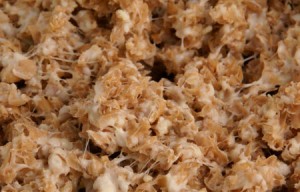 Beyond being a delicious addition to bread, sprouted grains have health benefits. Sprouting induces the wheat berry to produce enzymes that break down starches, proteins, and fats; this makes the grain easier to digest. Also, sprouting makes the grain's nutrients more available to us by degrading phytic acid, a substance in wheat bran that impedes our absorption of iron, calcium, and other minerals
Wheat berries are available at Whole Foods and natural foods stores. The sprouting is quite a simple process. I used the food grinder attachment on my KitchenAid mixer to do the grinding, but I think a food processor, or perhaps a food mill, would also work.
My wheat absorbed about 60% of its weight in water. I started with about 400 g of berries and wound up with about 640 g of sprouted grain. The berry on the left is dry, and the one on the right is sprouted and swollen with water: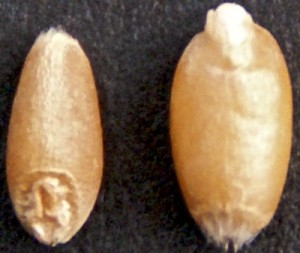 Sprouted Wheat
Ingredients:
Hard red or white wheat berries (available in bulk at natural foods stores)
Water
Method:
Place well-washed wheat berries in a container at least 3 times their volume, and fill the container with water.
Cover the container and place it in a dark, room-temperature spot.
Every few hours, stir the berries up with your hand.
After 24 hours, drain the berries and replace the water with fresh water.
Continue to stir with your hand every few hours.
After 48 hours, you should see the tips of the berries just beginning to sprout, and the endosperm (white interior part of the berry) should be able to be easily expressed with your fingers.
Rinse the berries well by swirling them around in fresh water and draining. A thin towel held tightly over the mouth of the container is easier than a colander. Do this several times until the water runs clear (it took me about ten times).
Grind the berries in a food grinder.
Store in the refrigerator until ready to use (up to several days).
After making my bread (which is coming up in the next post), I had left over grain, and since it looked so much like ground meat I though I'd try making a "burger" with it. I combined it with some finely chopped carrot, onion, and zucchini, some egg, and some seasoning, and you know, it wasn't half bad! With a little work it could even be a recipe I'd share.