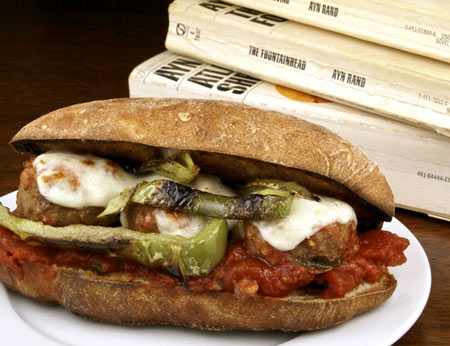 I been Ayn Randed, nearly branded
A Communist 'cause I'm left-handed
That's the hand I use, well, never mind
– Paul Simon, "A Simple Desultory Philippic"
When I was sixteen I got my first part-time job, as a sales clerk at Fabric Corner in Arlington, Massachusetts. I measured and cut fabric, advised customers on the relative merits of the invisible zipper, and separated items into non-taxable and taxable before ringing them up.
It wasn't a bad job for a sixteen-year-old who liked to sew, measure, and categorize things, but the job wasn't the best part of the job. The best part was having both the means and the excuse to eat out by myself. Before every shift, I would stop in at the small pizza joint next door to the store and eat dinner.
We had a ritual: I would ask for a meatball sub. They would ask me if I wanted cheese and peppers. I always said yes to the cheese, and usually to the peppers. I wonder why I couldn't have just said, "Meatball sub with cheese and peppers" right up front. I guess when you're sixteen you don't volunteer any more information than you absolutely have to, until you absolutely have to.
I would sit and eat the sub — an Italian roll stuffed with meatballs, marinara sauce, melted mozzarella, and grilled green peppers — with one hand (and this was not easy, believe me) while I held a book in the other. I think I got through my entire Ayn Rand period while left-handedly maneuvering a messy meatball submarine sandwich. This to me was the perfect meal. If pressed, I suppose I might have to say I was not a typical sixteen-year-old.
The quality of the food was secondary back then, and I do think the sandwich was probably less than stellar, gastronomically speaking. For one thing, I'm sure the roll was not as good as these sourdough Italian rolls. David Snyder posted them on The Fresh Loaf a few weeks ago, with the suggestion that they would make a substantial, non-soggy platform for a meatball sub.
And they do. For my sandwich, I made meatballs and sauce from The Classic Italian Cookbook by Marcella Hazan. Topped with mozzarella melted under the broiler and finished with grilled green peppers, it's a whole one-(or two)-handed meal.
Thanks, David, for the recipe and the memory.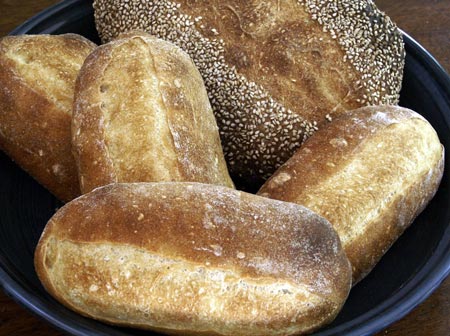 Sourdough Italian Rolls
(Adapted from dmsnyder's blog on The Fresh Loaf)
Yield: 1050 g (about 8 rolls, or 4 rolls and one loaf)
Time:
Ferment biga: overnight
Mix final dough: 15 minutes
First fermentation : 1.5 hours with folds at 20 and 40 minutes
Preshape, rest, and shape: 15 minutes
Proof: 40 minutes
Bake: 15 – 30 minutes
Biga Naturale (Sourdough Starter) Ingredients:
64 g mature 100%-hydration sourdough starter
256 g flour
192 g water
Final Dough Ingredients:
320 g flour
170 g water
3.1 g (1 t.) instant yeast
11.7 (2 t.) g salt
14 g (1 T.) sugar
4.8 g (1-1/3 t.) diastatic malt powder
14 g (1 T.) olive oil
All of the biga naturale
Optional Topping:
Method:
In a bowl, combine the biga naturale ingredients. Cover and ferment overnight (about 8 hours) at room temperature.
In the bowl of a stand mixer with dough hook, combine all of the final dough ingredients. Mix in low speed until combined. Adjust the water as needed to achieve a soft dough consistency.
Continue mixing in medium speed to a low-medium level of gluten development.
Transfer the dough to a wide, lightly oiled container. Immediately fold the dough in the container. Cover and ferment for 1.5 hours, with additional folds after the first 20 and 40 minutes.
Turn the dough into a lightly floured counter. Divide into 130-gram pieces for rolls, or about 500 grams for loaves. Preshape the dough pieces into balls and let rest, covered, for 10 minutes.
Shape the dough into batards. For a sesame seed topping, roll the top surface of the dough on a wet towel and then in sesame seeds. Place the rolls, seam-side-down, in a lightly-floured couche.
Proof, covered, for 40 minutes at room temperature, or until they have increased in bulk by 50%.
Meanwhile, preheat the oven, with baking stone, to 500F. You will also need steam during the initial phase of baking, so prepare for this now.
Just before baking, slash each roll or loaf with a single cut down its long axis.
Once the loaves are in the oven, reduce the temperature to 450F. Bake for 8 minutes with steam, and another 10 – 20  minutes or so without steam, until the crust is  golden brown.
Cool on a wire rack.