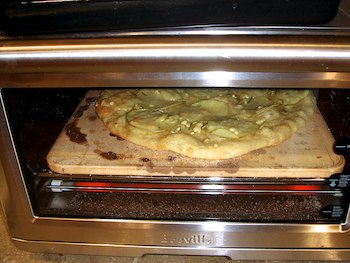 Allow me to reintroduce my old and faithful — but neglected-of-late — friend, prefermented dough.
Prefermented dough (or "pâte fermentée" if you're a Francophile, or "old dough" if  you like short words) is the decorous workhorse of the preferment family. Sourdough starter and poolish and most other preferments dawdle along at room temperature until they're about to lose it and then childishly demand, "Use me! Right now! Or I'm going to get sloshed and start killing off the yeast! I mean it!" Prefermented dough, on the other hand, after a reasonably short heyday on the counter, retires quietly to the refrigerator and stands patiently by until called upon to do its job, which is to add strength to your dough and flavor to your bread.
Prefermented dough contains the four essential ingredients — flour, water, yeast, salt — in the proportions typical of a basic French bread dough. If you're baking such a bread, you can save a piece of the dough and use it as the preferment in another bread. Or, as I've done for this challah, you can make up the prefermented dough just for that purpose. Simply mix the ingredients (no gluten development required), let the dough ferment at room temperature for one to two hours, and throw it in the refrigerator, where it will keep for up to two days. You can let it warm up for an hour or so before using it, or you can use it straight out of the fridge. In the latter case, make sure your final dough water is warmer.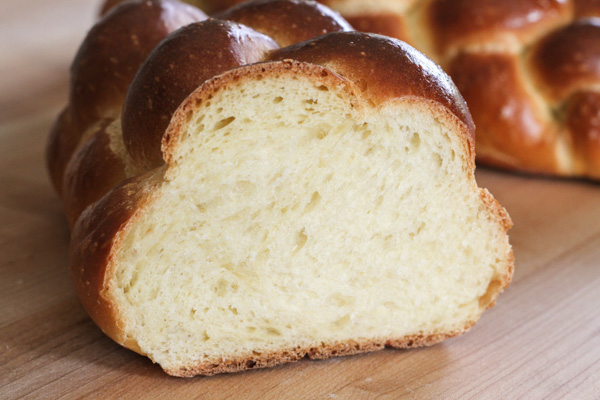 This challah contains olive oil but regular vegetable oil wold be fine, too. For a slightly less rich bread, use two whole eggs instead one one egg and four yolks. I shaped my loaves as six-strand braids. Maggie Glezer has a wonderful 6-braid tutorial at the Fine Cooking website.
This prefermented dough and the challah it served go to Champa (Versatile Vegetarian Kitchen) and Zorra (1x umrühren bitte) for BreadBakingDay #37, Breads Made with Sponge or Preferment.
Olive Oil Challah with Prefermented Dough
Yield: 1000 g (2 loaves)
Time:
Mix prefermented dough: 5 minutes
Ferment prefermented dough: 1.5 hours, then overnight in the refrigerator, or up to 2 days
Mix final dough: 10 minutes
First fermentation : 2 hours, with degassing at 1 hour
Divide, preshape, rest, and shape: 40 minutes
Proof: 1.5 – 2 hours
Bake: about 30 minutes
Desired dough temperature: 76F
Prefermented Dough Ingredients:
131 g flour
85 g water
0.8 g (1/4 teaspoon) instant yeast
2.6 g (scant 1/2 teaspoon) salt
Final Dough Ingredients:
460 g flour
112 g water
4.1 g (generous 1 1/4 teaspoon) instant yeast
8.5 g (scant 1 1/2 teaspoons) salt
All of the prefermented dough, removed from refrigerator and rested at room temperature for one hour
34 g sugar
64 g egg yolk (4 yolks) at room temperature
53 g (1 whole) egg at room temperature
47 g olive oil
Egg Wash Ingredients:
Method:
In a medium bowl, combine the prefermented dough ingredients together with your hands until they are well combined. Cover and ferment for 1 – 2 hours at room temperature, then refrigerate overnight, or up to two days.
An hour before mixing the final dough, remove the prefermented dough from the refrigerator, cut it into ten pieces, and let rest at room temperature.
In the bowl of a stand mixer with dough hook, combine all of the final dough ingredients. Mix on low speed until the ingredients are incorporated. The dough will be quite stiff.
Continue mixing in medium speed until the gluten is nearly fully developed.
Transfer the dough to a lightly oiled, covered container. Ferment at room temperature for 2 hours. After the first hour, gently press the dough to degas it.
Turn the dough into a very lightly floured counter. Divide into 12 pieces of about 80 grams each (6 per loaf). Flatten each piece with your hand and roll it up into a light cylinder. Cover the cylinders and let them rest on the counter for 20 minutes.
To form each dough cylinder into a rope, flatten it with your palm and roll it up tightly along the long dimension, sealing it several times with your fingertips as you roll. Then use the palms of your hands to roll the ropes to about 12 inches in length, with markedly tapered ends.
Braid two loaves of six strands each and place them on a parchment-lined baking sheet.
Combine one beaten egg with a teaspoon of water to make an egg wash; brush the wash lightly onto the braided loaves.
Proof at room temperature, covered, for about 2 hours, until the indentation left by a light finger press remains.
Meanwhile, preheat the oven to 380F.
Just before baking, egg wash the loaves a second time.
Bake for about 30 – 35 minutes, or until the crust is a shiny, deep golden brown.
Cool on a wire rack.