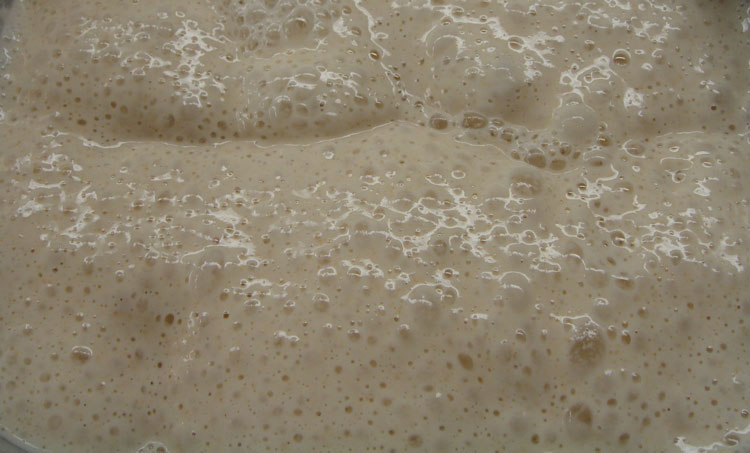 One of the questions people ask me most often is why you need to discard a portion of your starter every time you feed it. The answer is — you don't; you can bake with it instead, if you're in a baking frame of mind. However, as far as perpetuation of the starter is concerned, you'd better be taking some of it out regularly, or you're going to be in trouble fast.
Think about what happens when you deliver a meal to those microorganisms — yeast and bacteria — that live in your starter. They gorge themselves on flour and then go about the business of procreation. Now they're out of food, but there are even more mouths to feed. Unless you expeditiously dispose of some of those little mouths — into a bread dough, the compost pile, the trash can, whatever — you will need to bring in exponentially larger and larger meals for them, and your little dinner party party will become seriously out of control within a matter of days.
To illustrate: say you have a rather small amount of starter, 60 grams. At each feeding, you need to feed in proportion to the amount of starter you start with, around three times the flour and with an equal amount of water. If you kept feeding without taking any out, after one feeding you would have 60 g starter + 180 g flour + 180 g water = 420 g of fed starter. After the second feeding you would have 420 g starter + 1260 g flour + 1260 g water = 2940 g of fed starter. After three feedings, 20,580 g.
After just three days (six feedings), you would have 7,058,940 g of starter. You're going to need a pretty big jar, not to mention a pretty big budget to afford all that flour.
This is not to say you must always take some out. If I have 60 grams of starter at night and plan to bake bread the next morning, I would keep and feed the entire 60 grams, giving me 420 grams. This is enough to bake a few loaves (in a few hours, once it has a chance to become hungry again) and still have 10 grams left over to keep the starter going.