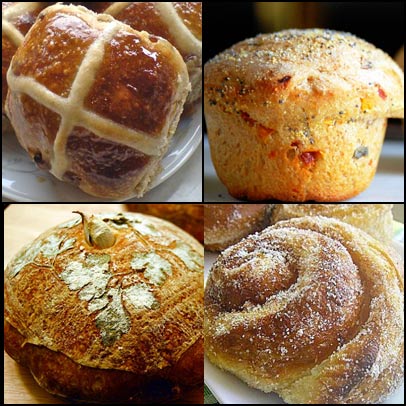 People baked lots of seasonal celebration breads and more this week. As always, thanks to everyone who sent all this gorgeous stuff!
Thanks also to Zorra (1x umrühren bitte) for volunteering to host next week's edition of YeastSpotting. Please include a link to Zorra's blog in your submitted posts during the coming week. You can still send entries via the submission form, which will automatically forward them to her.
For more bread inspiration, and information on how to participate in this weekly event, visit the YeastSpotting archive
.
Loaves and Rolls

Mama JJ's Sourdough Bread

Flatbreads, Filled Breads, and Savory Pastries

Domestic Goddess in Training

1x umruehren bitte aka kochtopf

Sweet Breads and Pastries

Kopiaste.. to Greek Hospitality

Joie de vivre: An amateur gourmet's guide

Culinary Travels Of A Kitchen Goddess