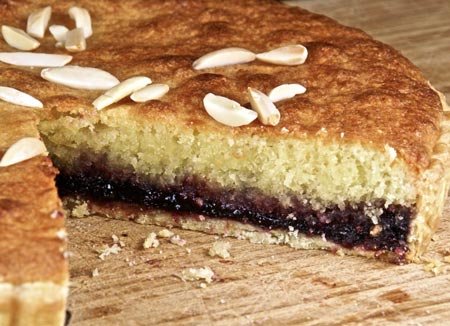 The June Daring Bakers' challenge was hosted by Jasmine of Confessions of a Cardamom Addict and Annemarie of Ambrosia and Nectar. They chose a Traditional (UK) Bakewell Tart… er… pudding that was inspired by a rich baking history dating back to the 1800's in England.
Talk about a no-brainer.
No, I don't usually use that term in conjunction with a Daring Bakers' challenge. But in considering what I would use to fill this month's Bakewell Tart (pudding, whatever)…well, if it's June in this part of California, we're talking cherries. No need to pull out the old thinking cap for that one.
And what a glorious cherry season we've had this year. You know how you always feel like you need to taste cherries before buying to make sure they're not too sour, or too mushy, or just plain tasteless? Well, not this year. I mean, I don't think I've put one single bad cherry in my mouth.
From farmers markets, from roadside stands, from the open-air market across the street from my clinic, even from the supermarkets, they've been good. And by good I mean perfect. And by perfect I mean firm, sweet, juicy, and 100% reliable. You just can't do any better than reliable cherries. Like a good night's sleep, reliable cherries make your problems a little less problematic, and the sweet stuff just that much sweeter.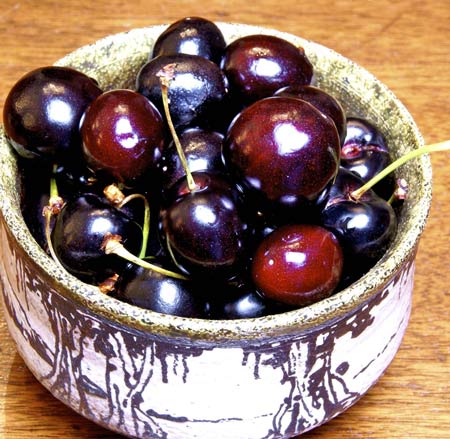 So the decision was easy, and so was the making of the jam (with the help of my June best friend, the cherry pitter). David Lebovitz's No-Recipe Cherry Jam was, its name notwithstanding, the perfect recipe. With a little Pama pomegranate liqueur added just for kicks.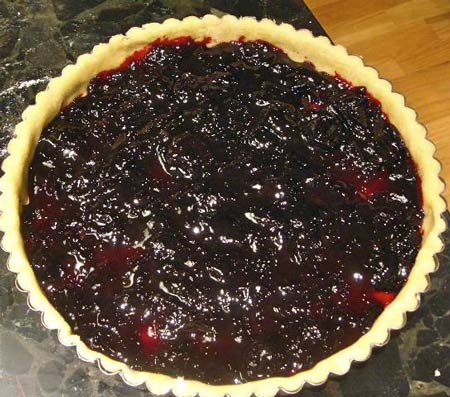 And so, the crust of the Bakewell Tart, which would normally have posed a problem for me because crusts and I do not get along, was not really problematic at all, and the sweet almond frangipane layer topping the jam was very sweet indeed. It does help to have all those reliable cherries in your corner.
Hundreds more Bakewell Tarts are on display today, courtesy of my daring DB friends, our lovely hosts Jasmine and Annemarie, and of course our tireless bakers-in-chief, Lis and Ivonne.