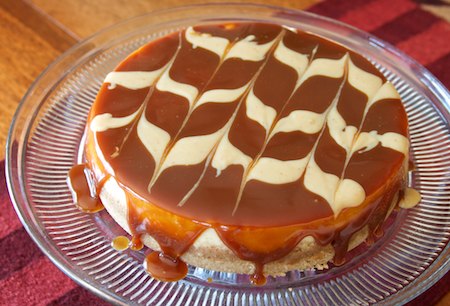 I made this dulce de leche cheesecake for my daughter M's 21st birthday. She loves cheesecake, so I was pretty sure she'd like this, and she did. It's a great cake for cheesecake lovers. It turns out it's also a great cake for turning non-cheesecake lovers (people who say "I don't like cheesecake") into cheesecake lovers (people who say "this is the most awesome cake in recorded history" — yes, these were the actual words). That makes me happy, because she is the most awesome daughter in recorded history, so I'm glad everyone liked her cake!
Dulce de leche is caramelized sweetened milk, and it is amazing. There is no way anyone can not adore it. You can buy it in jars at Latin American markets, or make your own. I used David L's recipe. It both flavors the filling and serves as the light-colored accent on the caramel topping. I made it less dark than some dulce de leche I've seen, although it's not quite as pale as it appears in my photo.
Some hints for perfect cheesecake :
For a smooth batter, the cream cheese needs to be very soft. Leave it out overnight, or put it in the microwave a few seconds at a time.
Keep the mixer on low-medium speed, to avoid incorporating too much air.
Scrape the bowl and paddle diligently. There's nothing worse than noticing a lump of unincorporated cheese stuck to the bottom of the mixing bowl as you're pouring the filling into the pan.
A Springform pan can allow water to seep into the crust when you bake the cake in a water bath, even if you protect the bottom with foil. A deep, straight-sided cake pan is better. Unmold it by inverting it onto a plate and then again onto a second plate. It might stick a tiny bit but this is a creamy cake so you can smooth it out with an offset spatula and no one will notice it if the cake has a topping. If it's to be left bare, try lightly buttering the plate onto which you invert the cake, as well as the plastic you wrap it with.
Cool the cake completely at room temperature before refrigerating or freezing. Leaving it in the water bath helps it cool slowly and prevents cracking.
For clean cuts, dip the knife in hot water and dry it with a towel before cutting each slice.
For a completely gluten-free cake, make the crust with gluten-free graham wafers.
I'm sorry there are no photos of the sliced cake. It went too quickly.