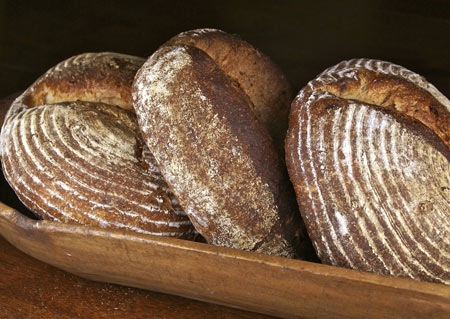 I made a lot of potato bread this weekend.
My intention was to make a simple sourdough bread with the addition of roasted potato nuggets that would stand up to the dough rather than receding into it, lending appreciable color, texture, and potato flavor.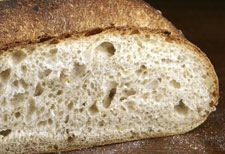 The first time around, that wasn't exactly how it played out, but I was still pleased with the bread. I roasted the potatoes at 350F so they were soft but not overly brown, with a few cloves of crushed garlic that I removed after roasting. Even having been left unpeeled, the potatoes did disintegrate almost completely into the dough. The result was a beautiful soft crumb with no discernible potato flavor, making it excellent for sandwiches (even PB&J) as well as accompaniment to the fantastic eggplant parmesan I had at the home of old East-coast friends who are now our neighbors (yes!).
As much as I liked the first loaves, I had not achieved what I set out to, so the following day it was more potato bread. This time I roasted the potatoes at a higher temperature (450F) so they developed more of a crust and a deeper flavor. The 3/4-inch pieces stayed semi-intact during mixing, giving the best of both worlds: a soft, mottled tan crumb studded with golden potato chunks and a definite potato flavor throughout. Definitely not a PB&J bread this time.