I was delighted when I learned the theme of BreadBakingDay #2, hosted by Becke of Columbus Foodie, was Bread with Fruit. What a great excuse to bake, again, one of my favorite breads: 50% whole wheat, with dried sour cherries and toasted pecans. The earthy flavor of whole wheat, the tartness of the cherries, and the slightly sweet spiciness of the nuts combine to make a bread that is always a hit with my family and friends.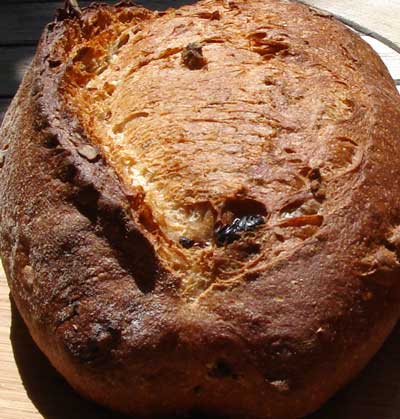 A few notes on the recipe:
I use white whole wheat flour because I enjoy the contrast of the light-colored bread studded with the ruby-red fruit and rich brown pecans; however, regular (red) whole wheat flour would work well also.
I coarsely chop the pecans because I prefer a rather even dispersal of the nut morsels through the dough, but you might prefer to leave them as entire halves for more dramatic bursts of nuttiness.
When adjusting the dough consistency during mixing, remember that the dried cherries will absorb a little of the dough's moisture, so make it just a tad wetter than you usually would.
I mix this entirely by hand, but you could do the initial mixing in a stand mixer; I do recommend incorporating the pecans and cherries by hand, though, to ensure that they stay as intact as possible. Also remember, if you use a mixer, to make the water cooler to compensate for the heat that will be generated by the mixing friction.
Whole Wheat Cherry-Pecan Bread
Yield: 1 kg (two small loaves)
Time:
Mix/ferment sponge: 12 – 16 hours
Toast pecans: 5 minutes
Mix final dough: 20 minutes
First fermentation: 2 – 2.5 hours
Divide, bench rest, and shape: 25 minutes
Proof: 1.25 – 1.5 hours
Bake: 30 minutes
Cool: 2+ hours
Desired dough temperature: 75F
Ingredients for sponge:
Ingredients for final dough:
119 g white flour
238 g white whole wheat flour (I used KAF organic)
273 g water at about 85F
2.3 g (3/4 t.) dry instant yeast
10 g salt
14 g honey
all of the sponge, cut into about 8 pieces
76 g coarsely chopped pecans
76 g dried, pitted sour cherries
Method:
Combine all of the sponge ingredients and knead just until all the flour is incorporated. Cover and let rest at room temperature for 12 – 16 hours. When the sponge is ready to use, it will be doubled in volume and the surface pebbled with bubbles.
In a large skillet over medium-high heat, toast the pecans, stirring constantly, until they are browned and fragrant, about 3 minutes. Do not let them burn! Set them aside with the cherries. Make sure the pecans are completely cool before adding them to the dough.
Combine all of the final dough ingredients except the pecans and cherries in a medium bowl. Turn the dough out onto the counter and mix by hand until the dough reaches a low level of gluten development, about 10 minutes. It should be quite soft, and tacky but not sticky.
Fold in the pecans and cherries and continue mixing by hand until they are evenly incorporated.
Transfer the dough to a lightly oiled container (preferably a low, wide one so the dough can be folded without removing it from the container).
Ferment at room temperature (72F – 76F) for 2 – 2.5 hours, with folds at 30 and 60 minutes. Do an additional fold at 90 minutes if the dough still seems quite slack.
Turn the dough out onto a lightly floured counter. Divide it into two pieces, and preshape into light balls.
Sprinkle the balls lightly with flour, cover loosely with plastic, and let rest for 20 minutes.

Shape into batards. Pick off any pieces of cherry or pecan sticking out of the top surfaces of the loaves, as they burn easily (don't worry, if you forget to do this it will still be great). Place the loaves seam-side-up in a floured couche or linen-lined bannetons.
Slip the couche or bannetons into a large plastic bag or cover with plastic wrap and proof at room temperature for 1.25 – 1.5 hours.
Meanwhile, preheat the oven, with baking stone, to 500F. You will also need steam during the initial phase of baking, so prepare for this now.
Turn the proofed loaves onto a semolina-sprinkled peel or parchment. Slash each one with a single cut parallel to the long axis of the batard. To get a nice ear, hold the blade at about a 30-degree angle to the surface of the loaf.
Once the loaves are in the oven, turn the heat down to 450F. Bake for 12 minutes with steam, and another 14 – 18 minutes without steam. I leave the oven door cracked open a bit for the last 5 minutes of this time. The crust should be a deep brown. Then turn off the oven and leave the loaves in for 5 minutes longer, with the door ajar, to help them dry.
Cool on a wire rack. Enjoy when completely cool.