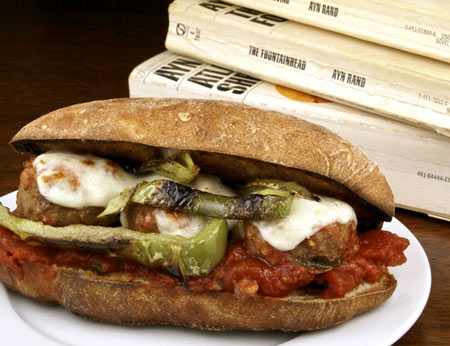 I been Ayn Randed, nearly branded
A Communist 'cause I'm left-handed
That's the hand I use, well, never mind
– Paul Simon, "A Simple Desultory Philippic"
When I was sixteen I got my first part-time job, as a sales clerk at Fabric Corner in Arlington, Massachusetts. I measured and cut fabric, advised customers on the relative merits of the invisible zipper, and separated items into non-taxable and taxable before ringing them up.
It wasn't a bad job for a sixteen-year-old who liked to sew, measure, and categorize things, but the job wasn't the best part of the job. The best part was having both the means and the excuse to eat out by myself. Before every shift, I would stop in at the small pizza joint next door to the store and eat dinner.
We had a ritual: I would ask for a meatball sub. They would ask me if I wanted cheese and peppers. I always said yes to the cheese, and usually to the peppers. I wonder why I couldn't have just said, "Meatball sub with cheese and peppers" right up front. I guess when you're sixteen you don't volunteer any more information than you absolutely have to, until you absolutely have to.